Justinmind New Release: Better UI prototyping with layout and spacing
Hi July! Here's our brand new product release so grab your desktop or mobile device, download our update and get prototyping right now!
Read on for a ton of great new features as well as some pretty nifty bug fixes brought to you by our dedicated Product team 🙂
New vertical and horizontal layout settings
That's a wrap!
Users can now wrap widgets within container widgets using the Vertical or Horizontal layout. The vertical/horizontal layout settings now contain the following options:
None (Before: Never visible), Scroll auto (Before: Automatically), Scroll always (Before: Always visible), and the Wrap!
With the wrap setting, you can wrap an object in a container as you can wrap text in/around text frames or other containers in Microsoft Office and many design tools such as InDesign and Photoshop.
Note that this is not available from the Free layout option.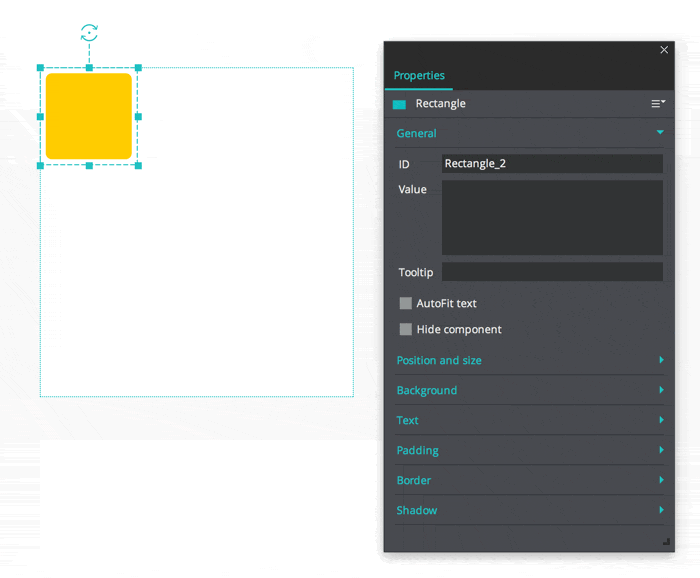 Spacing
With the new Vertical and Horizontal Spacing options, users can now add space in between widgets in container widgets. Users can choose the number of pixels that they want to display between the widgets, both vertically and horizontally.
Note that this is not available from the Free layout option.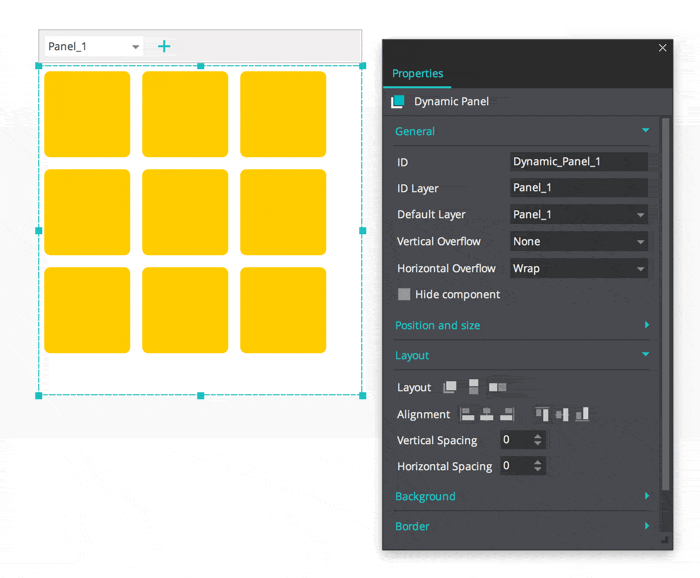 New Widget Library tab layout settings
As in the Screens tab available in previous versions, users can now change the layout of the Widgets libraries tab. They can choose between the grid layout (on the left below) and the text list view (on the right below). Note that the settings from when Justinmind was last open will automatically be retained so that upon re-opening the software, the same settings will be displayed.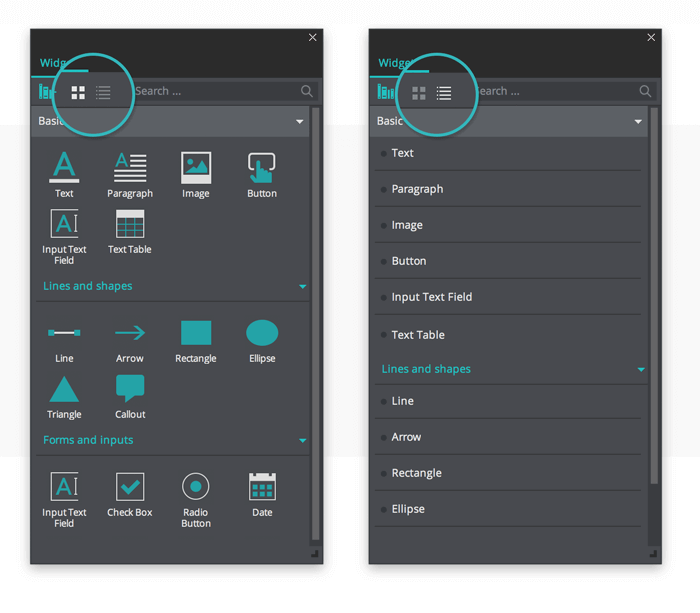 Updated document export settings
For Enterprise users, there are now changes to the way document templates can be exported. There are new default tags so that users can now see the description of their custom widgets as well as the names of widgets.
Bug fixes
Apart from the above, we've fixed some bugs that our users had given us feedback about! Check them out below:
The freezing scroll in the Requirements and Comments tabs has been fixed. The scroll is much smoother now! Note that this was a problem more for Mac users.
Comments created for widget groups now display correctly.
The top toolbar in the simulation window has been adjusted so that when re-sizing the window, the text does not get squashed.
User avatars in comment email chains have been fixed so that the correct avatar displays for each user.
SVG vectors will no longer increase in size when the color is changed.
SVG vectors will no longer become pixelated when resizing them from the Properties tab.
Colored SVG vectors will no longer display in black and white only in data lists and grids during simulation.
Download our new release asap to take advantages of these awesome updates!
FOUND THIS USEFUL? SHARE WITH
Emily Grace Adiseshiah
Emily is Marketing Content Editor at Justinmind
Related Content
Justinmind 9.4 is all about the marriage of interactive prototyping with UI design - check out an update that will change the way you create things.

Get Justinmind 9.3 - a more powerful prototyping experience, the power to convert data lists and grids to reusable widgets, easy image exports and more

We are proud to introduce the new Justinmind 9.2. Enjoy new features, many improvements and a better performance for truly powerful prototypes.