Justinmind New Release: a few updates to share

This is a quick version update with SVG vector functionality improvements and bug fixes for your Justinmind prototyping tool. Read on for more details!
We recently announced our brand new and improved Justinmind release, within which we brought you an awesome new text and paragraph widget auto resizing feature, color customization for SVG vector files and a some bug fixes with the online service. Today, we've updated the version further to improve a few teeny tiny details. So, here you go!
SVG vector files
We've fixed a couple of things related to SVG file rendering. We noticed that in last month's update, some issues related to the size of SVG files occurred. But SVG files made with older versions of Justinmind will maintain their size and aspect ratio in the new version.
Additionally, we've removed the color conflicts that were present in the inner CSS styles. Yay!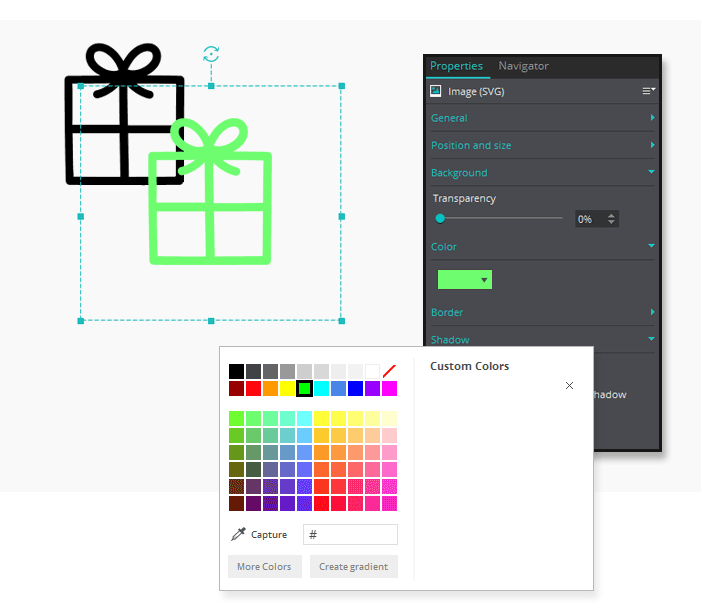 Apart from this improvement, we've also fixed a crash that appeared upon closing the application in Mac.
As always, any feedback you have is much appreciated. Feel free to leave us comments in our tutorials in the Support and Learning section, through Get Satisfaction or through our Support portal. Thanks folks! 🙂 And don't forget to update your Justinmind tool today!

FOUND THIS USEFUL? SHARE WITH
Emily Grace Adiseshiah
Emily is Marketing Content Editor at Justinmind
Related Content
Justinmind 9.4 is all about the marriage of interactive prototyping with UI design - check out an update that will change the way you create things.

Get Justinmind 9.3 - a more powerful prototyping experience, the power to convert data lists and grids to reusable widgets, easy image exports and more

We are proud to introduce the new Justinmind 9.2. Enjoy new features, many improvements and a better performance for truly powerful prototypes.