Justinmind New Release: new interactions, better prototypes

It's that time of the year when a brand new release of Justinmind comes out! Check it out guys, this is a big one. An early Xmas gift to help you make the most of your prototyping platform.
This time our developers really went the extra mile. The new version includes it all: new interactions, improved experience, bug fixes…to sum it up: better and even more interactive prototypes for you to create!
Here's a recap of what we've been doing:
New event triggers
With Justinmind, you can create beautiful interactive prototypes thanks to a wide selection of interactions. With this new release, you'll be able to enjoy three new event triggers, to make your prototypes more sophisticated and complex, with the real experience – still with no code involved whatsoever!
OnPanelActive: this will trigger an event when a panel changes to active, after a "Set active panel" event.
OnDataChange: this triggers events when a value changes in a data list or grid.
OnVariableChange: this triggers events when a variable value changes. Once you set a variable value, everything executes from any part of the prototype including templates and masters. It's a very powerful feature that can be used as an event template. Thanks to this trigger, many events can be simplified. For instance, check out how to quickly create tabs in your interactive prototypes with the help of the OnVariableChange.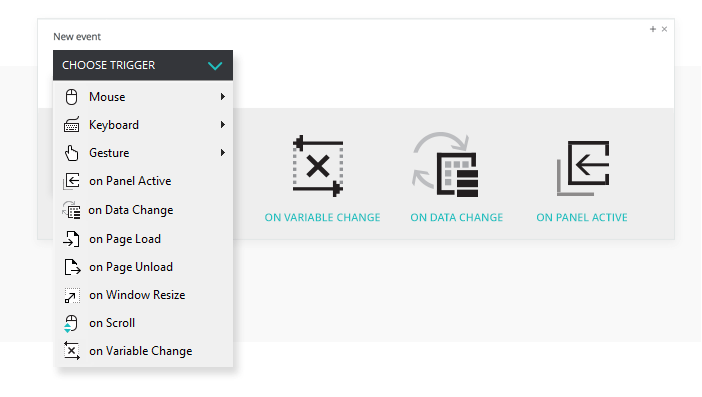 New functions
We've added new area functions in the expression builder: intersects and contains. When you build conditions, you can now specify two more functions that affect the area of the widget itself: when two widgets touch ("intersect") and when a widget is inside another ("contains").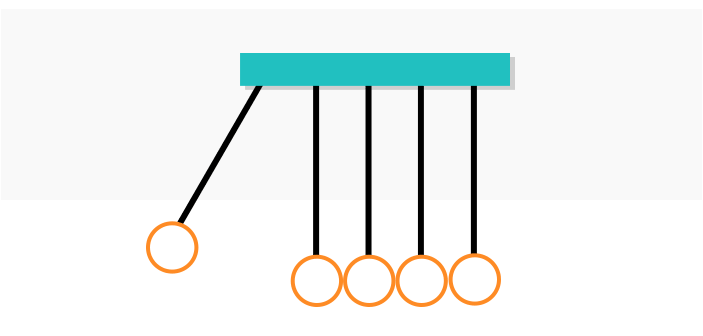 A better prototyping UI this Christmas
Up until now, if you wanted to open a new prototype while working on another one, you had to save and close the current prototype before opening another. That was then. Now it's possible to open multiple prototypes, each in a new Justinmind editor window, so you can work on a prototype while looking at another one and improve your workflow! This option is also configurable.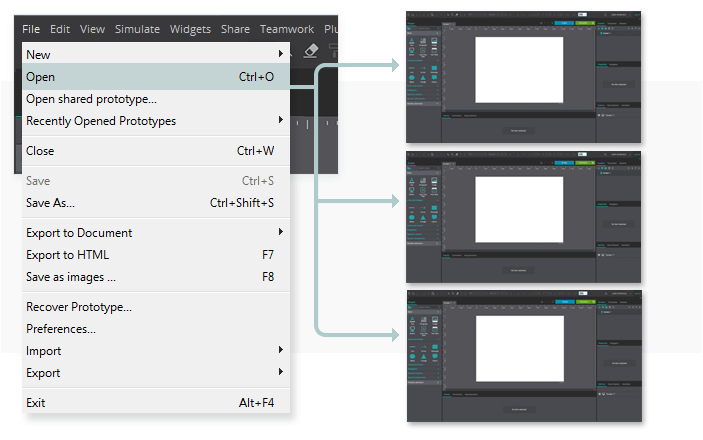 And it gets better! As it's Xmas time, we decided to fulfill a big part of the Justinminders' wish list. So here you go:
The events tab has gone under renovation! It's now possible to rename event cases and to change trigger keys directly in the event tab, without needing to open the events dialog. Furthermore, it's possible to edit variables, and even to change the drop target of the OnDragStop event. All this with a simple double click, to make you prototyping faster!
You can now add an action after having selected another in the events tab. Just select an action and right click on it to add a subsequent one; you can also paste interactions into new empty events, by simply using the copy/paste icons you'll find in the events tab.
The custom widgets can now be assigned a description, so it will be easier for you to recognize them.
When you hover over items in the outline tab, you'll get visual feedback on the canvas, again in order to improve your experience and easily visualize components on the canvas.
In the variable tab another small change has been made: the variables will be ordered alphabetically each time a new one is created.
Simulation is where it's at! Justinmind excels in hi-fi simulation, be it on the actual device or on the web. In this new release, we've improved the web simulator with a nice little detail: when you simulate a prototype, the interactive areas will be highlighted when the user clicks anywhere else on the page.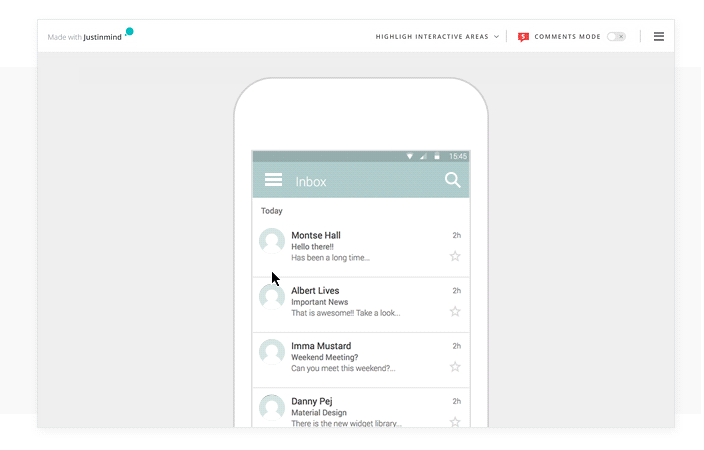 Vector images (SVG) can now maintain sharpness when simulating the prototypes.
We've designed a new screen skin for the Android phone in the editor and in the simulator, so that your simulations look even more real.
The latest (used) zoom settings in the events dialog will be saved, so you won't have to change it again when you reopen it.
When you reshare a prototype, you'll get more information about the one you're overwriting, a small detail that will make your prototyping life easier 🙂
And finally, we've invested some time in fixing bugs and making several usability improvements!
As you can see, we've been busy little elves making lots of changes and improvements that will help you to save those precious minutes and will drastically improve your experience with our prototyping tool!
Keep up the good work and we'll do the same. Send your feedback our way and we'll do our best to include it in the next releases! Now, all you have to do is sit back, relax and enjoy prototyping with your new and improved Justinmind platform!

FOUND THIS USEFUL? SHARE WITH
Daniela Castrataro
Daniela is Content Editor at Justinmind
Related Content
Justinmind 9.4 is all about the marriage of interactive prototyping with UI design - check out an update that will change the way you create things.

Get Justinmind 9.3 - a more powerful prototyping experience, the power to convert data lists and grids to reusable widgets, easy image exports and more

We are proud to introduce the new Justinmind 9.2. Enjoy new features, many improvements and a better performance for truly powerful prototypes.