Faster web and mobile prototyping: Justinmind New Release

This brand new version of Justinmind will give you a whole new user experience for your web and mobile prototyping, thanks to our redesigned events dialog that will make everything more intuitive, easier and quicker for all types of users.
You'll also find many bug fixes and usability improvements that contribute to the overall objective of making Justinmind an even smarter tool for building wireframes and prototypes for multiple devices.
Let's have a closer look at what you will find in this new release.
A brand new event dialog for a better User Experience
The highlight of this version is without a doubt the new events dialog, redesigned with users of all levels in mind.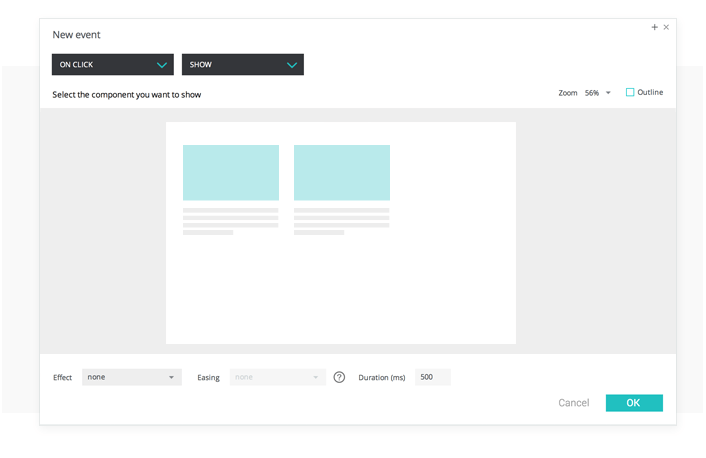 The new dialog is cleaner and more straightforward, giving users a faster way to add events to their wireframes and prototypes. The window has two main drop-down menus, side by side. In the first, users will be able to select the trigger, i.e. the user action that will cause an event to happen. The user can then easily go to the second drop-down menu and select the event itself.
Now it's time to specify which component on the canvas will be affected by the action, and the user can easily do this in the center of the window.
---
Download Justinmind today to supercharge your prototyping process!
---
Finally, effects and other options can be selected at the bottom of the events dialog.
But it's not only about a cleaner and more intuitive UI: the events dialog has been revised using some specific UX Design Patterns, such as tooltips and staged disclosure, which consists in displaying more advanced functionalities and options as the user interacts with it.
In fact, the new event dialog displays successive actions in a linear fashion (first do this, and then do that) during the user-interface interaction, and a series of tooltips that guides the user through the process. The user will be prompted to perform consecutive steps, rather than having all the options displayed at the same time. More advanced and expert users can decide to remove all the pieces of extra content, if they prefer.
To further improve the events section, we've added two new options in the actions: the "Open in new tab" within the "Link to" action, and the "Create DataMaster" when creating a Data Master Action, which many of you requested. Additionally, the Hide and Show is now two separate actions.
Usability improvements and bug fixes for smarter web and mobile prototyping
Apart from all the changes in the events dialog, we optimized the HTML exported from prototypes with many comments, and made some usability improvements, the major one being the reorganization of the Widget palette.
Finally, we fixed some bugs. These include:
Swipe and Scroll event conflict.
Dropdowns in Mac.
Export Prototype feature.
So there you have it! As you can see, we're focusing on continual development and adjustments to improve your experience with every release. Check it out, and let us know what else we can do to make Justinmind an even smarter prototyping tool.

FOUND THIS USEFUL? SHARE WITH
Daniela Castrataro
Daniela is Content Editor at Justinmind
Related Content
More power to Photoshop users with Justinmind 8.7

Take your prototypes to the next level with an enhanced Photoshop plugin, polished Material Design 2 UI kit and new native application feature. Welcome to Justinmind...

Design beautiful apps for iOS 12 with Justinmind 8.6

iOS 12 UI kit, new keyboard shortcuts, SAML authentication and full macOS Mojave compatibility. It's Justinmind 8.6.