Upgrade to new version 6.0 for FREE!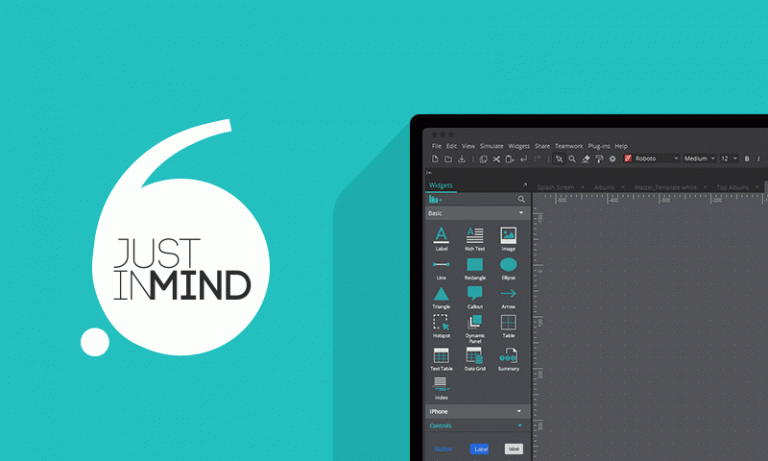 Over the past months, we have been testing the beta version of the next Justinmind version, and it is only fair to say that we've evolved. We've evolved a lot. This incredible project was not just about looking better, but instead giving our customers a better, more powerful tool to create and bring to life their best and biggest ideas yet. Justinmind 6.0 is a reinvention/optimization of many core features and the addition of amazing new features, all incorporated into a great design and experience.
In a few words: expect powerful, beautiful and simple.
This incredible project was not just about looking better, but instead giving our customers a better, more powerful tool to create and bring to life their best and biggest ideas yet
Interface completely redesigned
We've redesigned the entire interface improving a lot of usability issues. As you can see, the most obvious change is the dark theme. We've found that this kind of dark interfaces are easy on the eyes and make you focus on your designs instead of the interface components.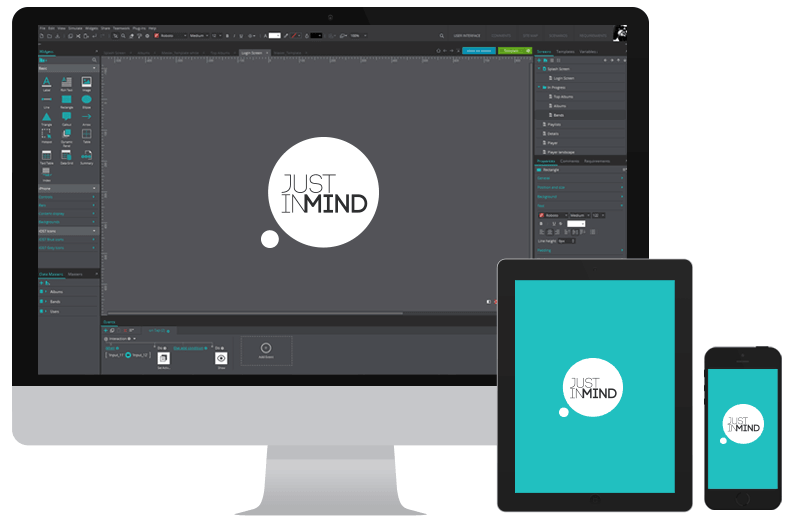 Make Believe. Test on Device
Navigate through your prototype and experience it on a real device. Use our mobile apps to experience your prototype live from any iPhone, iPad or Android device, it will look, work and feel just like the real thing.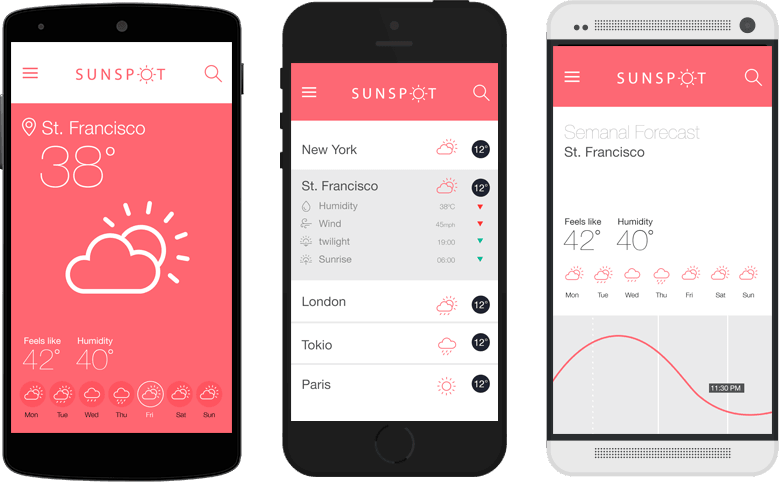 Widget libraries management improved
All libraries management has been located in a dedicated view. From there you can add or remove libraries to your widgets palette. Each prototype will save the libraries that have been used so next time you open it, you'll see the libraries you last used on that prototype.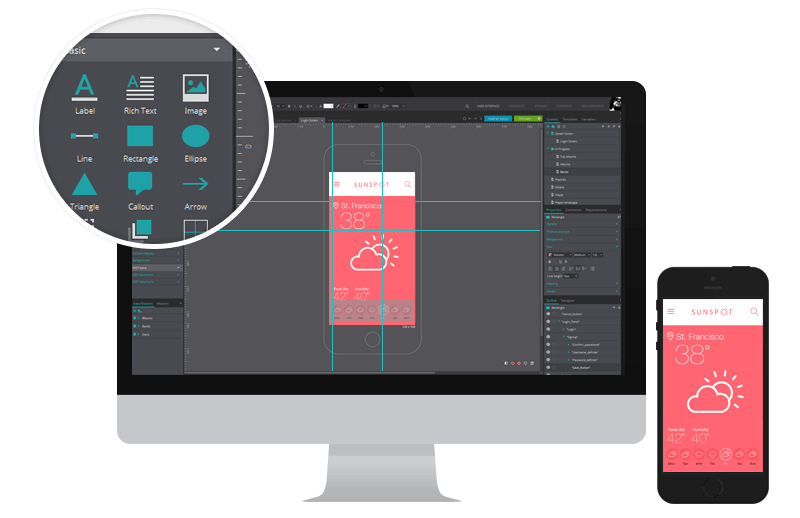 Improvements on the annotations system
The way feedback is introduced to your prototypes has been redesigned making it easier for your clients to use and giving it a more professional appearance. It looks great, it makes you look even better.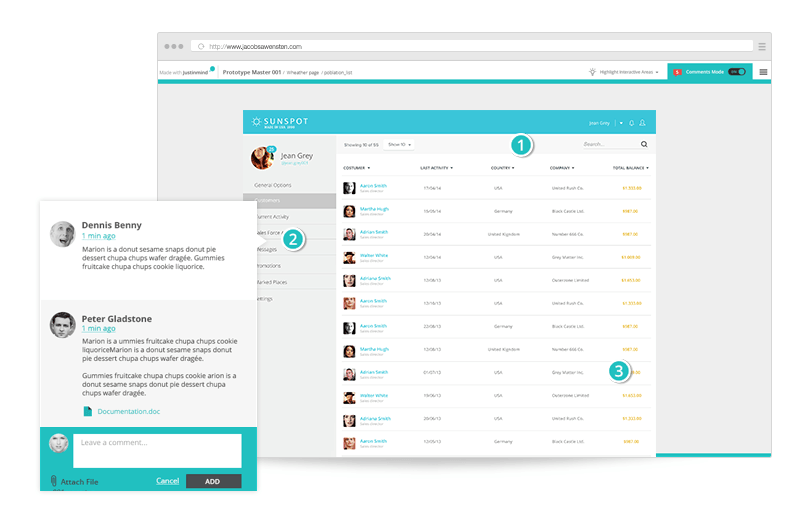 Requirements management included
A complete requirements management view has been included so you can track all your project's changes and link that to the visuals. Versioning and export/import to CSV are just some of the features of this new module.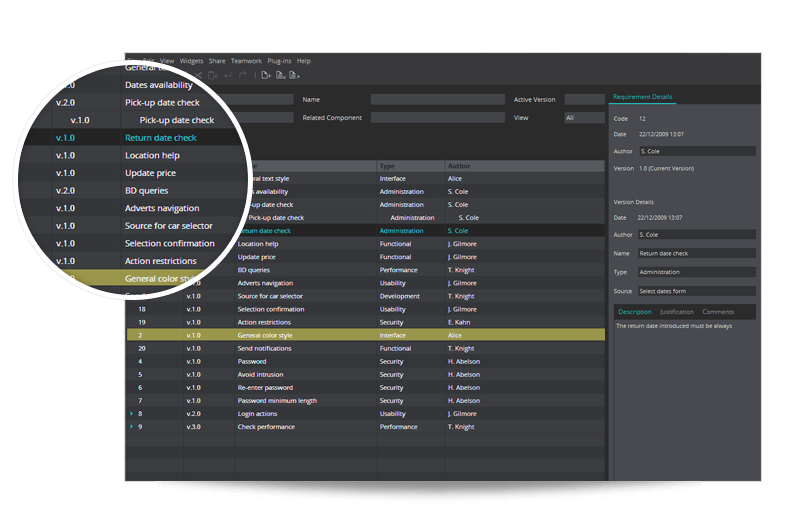 And the best of all, if you're already a client you have this upgrade for FREE! Just download it and insert your key.
This is a list of other things included in this update
Justinmind now allows to work with two monitors in Mavericks
Color dialog improved with more colors and hexadecimal codes
Lock vertical / horizontal scroll in page
User details inside Justinmind
Improved screenshots in scenarios and resize screen nodes
Comment markers in design
The ids of the elements are retained when in duplicated screens
Widgets in widget's palette now are organized in libraries
You can draw elements out of the canvas
Names don't show cut in the Outline palette any more
Options to 'distribute vertically / horizontally' included in the contextual menu
Fixed a bug that made groups to move when one of its elements was moved
Now it's easier to define a pagination action
Removed the icons of date and time inputs so you can place your own
This ticket has been fixed https://getsatisfaction.com/justinmind/topics/hide_comments_pages_button_obtrusive_over_design
And this one as well https://getsatisfaction.com/justinmind/topics/new_user_some_questions
And even these two https://getsatisfaction.com/justinmind/topics/shared_widgets_not_uploading_to_usernote_as_a_publisher_account
https://getsatisfaction.com/justinmind/topics/updating_shared_widget_library
Some users which names started with 'x' where having problems with the Export to HTML option. Well, no more.
Some memory leaks fixed
Many bugs fixed.
Wow! You really got this far reading? Good for you!
FOUND THIS USEFUL? SHARE WITH
Victor Conesa
Victor is the Product Manager at Justinmind. His specialties include business analysis, usability, requirements management and prototyping. When not busy doing that he is known to eat or sleep.
Related Content
More power to Photoshop users with Justinmind 8.7

Take your prototypes to the next level with an enhanced Photoshop plugin, polished Material Design 2 UI kit and new native application feature. Welcome to Justinmind...

Design beautiful apps for iOS 12 with Justinmind 8.6

iOS 12 UI kit, new keyboard shortcuts, SAML authentication and full macOS Mojave compatibility. It's Justinmind 8.6.