Web & mobile prototyping, wireframing, UX: December's best posts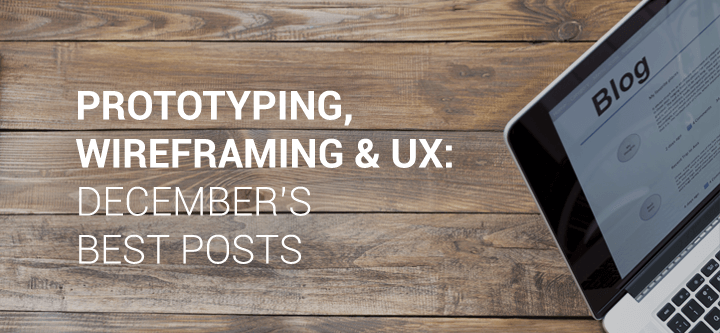 Must-read posts on product management, prototyping, wireframing, user experience and usability, curated by the Justinmind team just for you.
December's blogosphere brings a wealth of 2017 predictions posts (predictably), 2016 nostalgia fests (including our own Justinmind lookback) and of course the requisite "gifts for the techie in your life" articles. Here at Justinmind we've waded through a hefty reading list and curated the best of the month's publications for everyone interested in prototyping, user experience and product management.
Highlights come from Smashing Magazine's intruiguing analysis of the UX impact of design language, and Benjamin Brandall's wry, revealing examination of Snapchat's tricksy UI. Also, robots are about to take over the world, and your office. Find out more in best prototyping, UX and product management posts of the month below.
Why Snapchat's design is deliberately confusing
Ever felt like you were too old, or maybe just too tech-naive, to get to grips with a confusing user interface? Don't worry, TechCrunch and FastCompany contributor Benjamin Brandall felt like that too when he first started using Snapchat – and he's only 23. And did we mention he writes for TechCrunch and FastCompany? In Medium post 'Why Snapchat's design is deliberately confusing', Benjamin argues that Snapchat's elusive UI is in fact a deliberate design choice that splices seamlessly with the app's raison d'être as "the anti-Facebook".
By first examining what makes Snapchat's user interface unusual and initially confusing – its non-hierarchical architecture, its flat menu, its non-linear navigation – Benjamin connects the app's unusual UI to its equally unusual ethic: Snapchat isn't about being visible, but about being 'undiscoverable'.
Benjamin links to a fascinating piece on founder Evan Spiegel, and relates Snapchat's UI design to the brand's larger marketing exercises. He also touches on why Snapchat rip-offs designed by the likes of Facebook are doomed to failure. Truly a revealing post.
Time to read: 7 minutes
Takeaway thought: "Snapchat isn't just a ton of features slapped together amid a confusing interface. It's an entirely different way to communicate, and one that is symptomatic of a growing cynicism towards the harsh transparency of the digital age."
How Creating A Design Language Can Streamline Your UX Design Process
When he was asked to streamline a digital agency's UX process, Kyle Cassidy realized he had to point out where the old process had been going wrong, and get buy-in from stakeholders on the new, pared-down UX process. He set out to bring everyone together in answering one central question: "how can we establish a standard wireframing process that allows us to work at speed, while also improving cross-project consistency?" The resulting Smashing Magazine article details Kyle's experience of how lean thinking helped the agency become more UX-efficient.
The post dives into the benefits of wireframing, the enhancements Kyle saw as central to improving the prototyping and design process, and how he introduced a common 'design language' across the agency. This in-depth post is full of first-hand experience backed up by useful diagrams. The section on design languages is particularly interesting for anyone wondering how to bring UX into larger enterprises and organizations. Kyle even outlines how to run a design language workshop and explains how to document the resources and process efficiently.
Time to read: 18 minutes
Takeaway thought: "An integral part of the new workflow was the introduction of our design language, which has transformed the way we wireframe projects. Introducing the design language has allowed us to work lean, enabling us to build responsive wireframes at speed."
---
Prototype better wireframes with Justinmind. Download free.
---
Asking forgiveness, not permission: Advantages of going rogue in the slow world of enterprise UX
Self-confessed 'prototyping addict' Laura van Doore captures the feeling of first-timer product and design guys in enterprises: you start all wide-eyed and hopeful, then realize that if the enterprise isn't 100% UX friendly, product design is going to be very different from start-up or agency work. But instead of getting down-hearted, Laura recommends 'going rogue': as part of Flight Centre's Digital Experience team, Lshe took part in unsanctioned design and UX projects that improved products and user experience without disrupting established workflows or ruffling the bosses' feathers. In 'Asking forgiveness, not permission', Laura gives some tips on how and why UX side-projects can work in an enterprise scenario, and advocates for a the revenue generating power of good UX.
Time to read: 5 minutes
Takeaway thought: "Sometimes it feels as if an organisation is a giant ship, and that it's impossible to turn it around. Keep trying."
9 ways robots are going to impact your job
OK so it's not strictly about prototyping or UX, but '9 ways robots are going to impact your job' gives an insight into Ai that's too good to miss. The Next Web's Scott Gerber asked nine business leaders how they see artificial intelligence affecting their workforce and workflows; the answers are enlightening and positive.
From the prediction that robots in the workplace will "boost efficiency and productivity and allow us humans to focus on strategy and higher value-add work", to the notion that managers will have to learn to manage robot teams, there's plenty to think about in this post. We found Vik Patel's prediction that demand for certain services will increas fascinating, as he predicts that robots will have an enormous impact on the very infrastructure of digital services. This will definitely have an impact on prototyping, design and product management.
Time to read: 6 minutes
Takeaway thought: "We are planning for a point in the near future when the vast majority of product manufacturing will be done by robots. This will have a significant impact in how we design our products and our costs for manufacturing."
How to create an enterprise UX strategy
December saw Justinmind publish our first guestblog in UXMatters – an exciting achievement for us! In "How to create an enterprise UX strategy" we break down why good design is good for big businesses, and how enterprises can leverage UX strategy to reimagine themselves for the new digital era. The post aims for practicality first and foremost – you'll find a couple of basic templates for buisling an entrprise UX strategy, and explanations of the foundational tenets of enterprise UX. The actual process of making a UX strategy is broken down into 4 phases, with an examination of tools that come in handy when strategizing user experience.
Crafting a Creative Culture by Jeff Veen
If the current design partner at True Ventures and former VP of Design at Adobe talks about the importance of creative culture, we listen. That's why we included 'Crafting a creative culture' (with video link) or Jeff Veen's keynote from Mind the Product Conference 2016. Jeff discusses how an organization's structrue can help manage and channel emotions through "equanimity – the idea of taking all this emotional anxiety, and trying to structure it, understand it and channel it into productive output."
The talk lays out Jeff's process when solving stressful problems, and how that links back to a positive, creative culture; his tips on how to build a creative culture are indispensible for anyone looking to support UX in a large organization. We especially love Jeff's sage home truths: "everything breaks; everything is connected; everything is user experience"
Time to watch: 43 minutes
Takeaway thought: "Everything breaks all the time. That is normal and it's what we have to design for."
UX Prototypes: Low Fidelity vs. High Fidelity
Sometimes it helps to brush up your knowledge on UX and usability testing with prototypes; Kara Pernice's NN Group piece is the perfect resource to help you do so. Free from jargon and sales pitches, 'UX prototypes: low fidelity vs high fidelity' makes the case for testing with a prototype ("Ripping up code is very expensive. Ripping up a prototype is not"), provides some handy checklists to help you decide what kind of prototype you might need to test on, and breaks down the benefits of testing on diffreent fidelities.
If you ever had any doubts about UX testing on prototypes, this post will answer all your questions in an objective and informative way.
Time to read: 13 minutes
Takeaway thought: " You cannot afford to not test prototypes. Your design will be tested, whether you plan for it or not."

FOUND THIS USEFUL? SHARE WITH
Cassandra Naji
Cassandra is Marketing Lead at Justinmind
Related Content
Guide to list UI design: principles and examples

How important are lists in UI design? How much do they affect usability and what's the best way to design them? In this guide, we'll explore the elements that make up a great list UI design and look at some inspiring examples!

Shopping cart design: patterns for better conversion

Shopping carts are a key part of any ecommerce. But what makes a shopping cart good? And what can we do to improve its conversion? Read on and find out!

Hotel website design: 13 stunning examples

Hotel website designs require two fundamental qualities: they must be attractive and usable. Great designs can leave a positive impression on the client before they even arrive. In this post, we've rounded up 13 examples of hotel website design done right.