Web & mobile prototyping, wireframing, UX: best October blog posts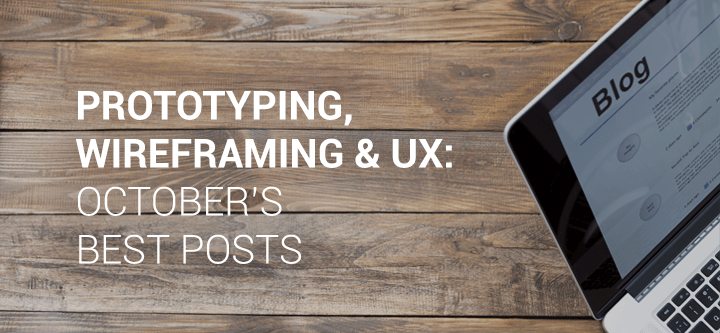 Wireframing, UX, and web & mobile prototyping from around October's internet, brought to you by Justinmind.
It's been a great month for prototyping, wireframing and user experience posts around the blogosphere. Justinmind has really enjoyed brushing up our vehicle UI knowledge, deep-diving into original research from the NN Group, and sharpening our usability skills thanks to top tips from Jared Spool. Here's our curated list of October's 5 best blog posts on software design, prototyping and usability.
Co-designing with Hosts at Airbnb
Airbnb is tweaking their user experience all the time, and most of us tend to think about the impact of those changes solely on the guest. But what about the host experience? In her reflective Medium post 'Co-designing with hosts', Airbnb Design Manager Jenny Arden explains how recent changes to the mobile app aim to improve hosts' UX. The key to understanding how hosts interact with the mobile app, says Jenny, is to understand that they use the platform every day, not a few days a year, and for them it's business, not (necessarily) pleasure. Jenny explains how the design team got closer to hosts – using prototypes to start conversations, gaining insights from group sessions and co-designing with hosts from 8 countries worldwide. From seemingly small interface modifications such as reducing the number of clicks needed to get to the Inbox, to testing out over 40 versions of the new calendar feature, the post looks at the UX impact of UI changes.
Time to read: 7 minutes
Takeaway thought: "Timely communication is vital"
Don't miss Justinmind's interview with Airbnb's Director of Experience Design Katie Dill!
Vehicle UIs of the Future Are Going to be Amazing
Self-driving cars, Uber's robotics ambitions and Tesla's Mars plans seem to be in the headlines daily right now. So Muwuso Mkochi's post 'Vehicle UIs of the future are going to be amazing' is a welcome reflection on how vehicle interfaces for average drivers – not just astronauts and cyborgs – will look in the near future. Acknowledging that the automative industry has been tardy in comprehending the importance of human-centric UIs, Muwuso nonetheless finds 10 stand-out examples of vehicle HUDs (Heads Up Displays), Interactive UIs and and 3rd part app controllers. The featured prototypes show how drivers will be able to check tire pressure with an app, project their navigation systems onto windscreens, and use apps that interpret vehicle health so they can make repairs before problems arise.
Time to read: 5 minutes
Takeaway thought: "What will be the future of vehicle UIs? Can they fundamentally change our relationships to our cars?"
Is the Underlined Link Hurting Readability
In Justinmind's first blog post for UX Booth (we don't like to blow our own trumpet but hey), we looked at whether it's time to wave goodbye to the underlined hyperlink. Starting out with an overview of the history of why we've been underlining links since for the last 3+ decades, 'Is the underlined link hurting readability?' goes on to look at some of the usability issues around the convention. From positive aspects such as accessibility to the little discussed negative impact on readability, the UX of the underlined link gets a thorough workout. And for the UI design curious, there's a round-up of possible alternative ways to format links.
Time to read: 11 minutes
Takeaway thought: "Is it time to ditch the underlined link in favor of something less 1991?"
Consistency in the Omnichannel Experience
Featured on Nielsen Norman Group, Kim Flaherty's 'Consistency in the Omnichannel Experience' addresses the complexities of designing for a multi-channel world. Nowadays, users interact with web, email, mobile devices, kiosks, online chat, and physical locations, which means that brands have to strive to create one cohesive consumer experience across many different channels. Kim breaks down a successful omnichannel experience into 5 core components and looks at how to achieve the first of those – consistency. She examines why it's important to create a consistent experience across channels, which areas of the ecommerce ecosystem UXers should focus on, and how data use and visual design support consistency.
Time to read: 7 minutes
Takeway thought: "If the user experience isn't consistent across channels, users will question the organization's credibility."
Getting the Most out of Subject Matter Experts
When usability guru Jared Spool blogs, we sit up and pay attention. His October post on 'Getting the most out of Subject Matter Experts' brings a weather eye to the challenges of using SMEs to their full potential. Setting out from the principle that while SMEs are obviously experts they're not omniscient, Jared reflects on the factors that hamper SMEs from giving helpful feedback; his comments on the dangers of designating SMEs as de facto user advocates are particularly enlightening. Jared also examines how SMEs can contribute to Self Design, and how to make that process work.
Time to read: 11 minutes
Takeaway thought: "The difference between the SME as advocate and the SME as guide and translator is just a perspective shift. We're still taking advantage of the SME's experience and knowledge. We're just no longer asking them to resolve our design decisions directly."

FOUND THIS USEFUL? SHARE WITH
Cassandra Naji
Cassandra is Marketing Lead at Justinmind
Related Content
Guide to list UI design: principles and examples

How important are lists in UI design? How much do they affect usability and what's the best way to design them? In this guide, we'll explore the elements that make up a great list UI design and look at some inspiring examples!

Shopping cart design: patterns for better conversion

Shopping carts are a key part of any ecommerce. But what makes a shopping cart good? And what can we do to improve its conversion? Read on and find out!

Hotel website design: 13 stunning examples

Hotel website designs require two fundamental qualities: they must be attractive and usable. Great designs can leave a positive impression on the client before they even arrive. In this post, we've rounded up 13 examples of hotel website design done right.