UX strategy and prototyping workshop with Jaime Levy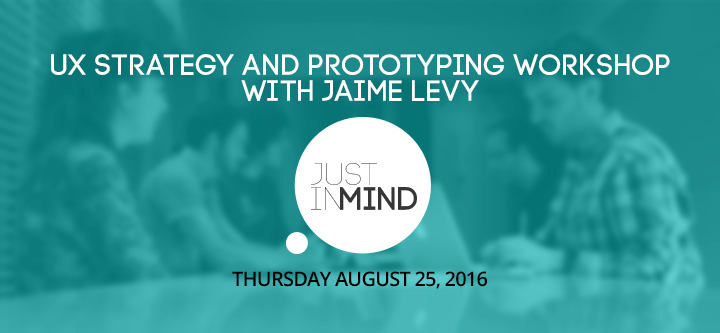 UX guru Jaime Levy leads our upcoming workshop on design hacking innovative concepts into prototypes. And the best part? The workshop is completely hands-on and interactive.
This August 25th, LA-based User Experience Strategist Jaime Levy will combine forces with Justinmind to offer a workshop on design hacking innovative concepts into prototypes. The workshop will help UI and UX practitioners, product teams and managers, business execs and startup founders who want to improve their strategic processes and practices. You'll learn collaborative techniques that accelerate your thinking around product differentiation and innovative business models.
A known influencer in UX circles, Jaime heads a consultancy called JLR Interactive, which caters to startups and enterprises, helping them transform their business concepts into innovative and scalable online solutions. She conducts UX workshops worldwide and is a part-time college professor at the University of Southern California.
What's in the workshop
After an introduction to UX strategy given by Jaime Levy, we'll practise with a made-up value proposition of an online product so that you can learn the steps you need to take for informing strategic UX-centric decision-making. All participants will then create a storyboard for an app process for that product. The best one will be transformed into a fully interactive, hi-fi prototype by the Justinmind team, who will demonstrate how interactive prototyping helps to minimize the risks of a software development project and to reduce development costs.
What you'll learn
• Why the empirical practice of user experience strategy is crucial for devising successful online products
• Ways to poach UI concepts from both competitors and influencers who offer similar feature sets
• How to create a storyboard that focuses on a products' value innovation and business model
• The basics of the prototyping tool Justinmind for creating solution demos for validating assumptions
Who this workshop is for
UX/UI practitioners of any level, product teams and managers, business executives, and startup founders who want to learn how to be more strategically sound in their process. It's also geared toward aspiring strategists who want to reposition their career tracks with more marketable skill sets.
Agenda, August 25th, 2016
14:00 – A comprehensive overview of the practice of UX strategy and validating a product's value proposition
15:00 – Exercise: Creating a storyboard of an app process
15:30 – Exercise: Creating an interactive prototype with Justinmind
16:30 – Afternoon refreshments
17:00 – The session ends
Workshop location
The workshop will take place in Justinmind's headquarters, 180 Sansome Street, San Francisco. Sign up here to ensure your place.
UX strategy and interactive prototyping
User experience strategy lies at the intersection of UX design and business strategy. It is a process that should be started before the design or development of a product begins, and which relies on lightweight tactics for pushing cross-functional teams toward a unique digital solution that customers want. It is also helpful when building a digital product and you need to learn as much as you can about the competition. If done right, the research can provide a treasure trove of insight into current trends and outdated manifestations of mental models. Through realistic user research, mutual requirements across multiple divisions can be understood, revealing knowledge gaps and providing solutions to them.
Interactive prototyping is part of UX strategy. It's the best solution to align business and IT: with interactive prototypes, you can design and test the complete end user experience before getting down to code. Cross-functional teams are all involved in a collaborative effort, and all contribute to enrich the experience through continuous feedback and iterative design. The workshop will experiment with these design solutions using Justinmind's prototyping tool.
Find out more details of the event here, and sign up today! Places are limited.
FOUND THIS USEFUL? SHARE WITH
Cassandra Naji
Cassandra is Marketing Lead at Justinmind
Related Content
The feature creep: when too much hurts

The feature creep can drain projects of time and money and make life difficult for the user. But is it exactly, and how do we stop it? Find out on this post!

Best app designs: an analysis of success

Why are some apps massively successful while others are forgotten? Let's go over some of the most successful apps out there, and see how they did it!