Prototyping & user experience: Q&A with JustGiving's Head of UX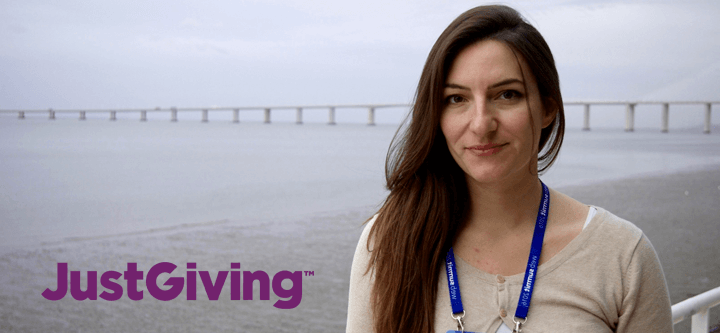 Prototyping and good UX design really can make the world a better place. JustGiving's Hara Mihailidou explains how.
Since it was founded fifteen years ago, online social giving platform JustGiving has changed the face of charitable giving. No longer the preserve of registered organizations, fundraising for charity can now be done by ordinary individuals; in fact, people in 164 countries have raised over $3.3 billion for good causes since JustGiving got started. The platform prides itself on its 'tech-for-good' stripes, which means the team is always looking for innovative ways to encourage people to both fundraise and donate online, whether they're running a marathon for cancer research, or donating to couple of bucks to pay for badger vaccinations.
All this tech-for-good talk got the Justinmind team super excited at the prospect of talking to Hara Mihailidou, JustGiving's Head of UX. Computer Science graduate Hara is passionate about improving the human-computer interaction landscape, and her work at JustGiving provides her with ample opportunities to build creative, cohesive experiences that keep users coming back. We spoke to her about her role as Head of UX at JustGiving, where she leads a curious and experimental team on a quest to use UX to change the world for the better.
What's an average day like for you as Head of UX at JustGiving?
There is no such thing as an average day at JustGiving and this is what makes it such an exciting place to work… although I definitely spend the first 30mins of every day joining different team huddles with a warm coffee at hand.
How is the UX team organized and how do you collaborate with the rest of the JustGiving team?
Our team is holistic and nimble/mobile at the same time. We've divided the main consumer and business customer journeys into themes, or 'threads' as we call them. Under those threads we group product and marketing requests and find opportunities to unify experiences.
Our team members are grouped into pairs. Each UX&UI pair is embedded in one or more engineering teams and they tackle the design problems from discovery to final implementation together.
If you need to update a feature, what's the design process you and your team go through?
We call ourselves accelerators of cross-collaboration! The first thing we  try to do is bring the cross-functional team together. That would mean a representative from research, product, customer support, engineering, analytics, UX and design. We run short design sprints in order to understand as a team the experience we will be delivering and put together a research plan. We then arrange regular check-points to showcase our WIP and have a physical design wall where we showcase our work.
Once the design is finessed and validated by early user feedback, we work closely with analytics, product and copywriters to identify behavioral experiments that we can run before building product functionality. These experiments include the usage of existing media we have in our hands (for example our email/CRM channels).
We keep really close to the implementation and front-end developers to evolve with every opportunity our DNA design language and make sure we use existing 'LEGO' pieces of design each time we build new functionality.
---
Download your FREE copy of Making an Enterprise UX-Friendly
---
What role does prototyping play in encouraging people to use your app and website?
Prototyping is an integral part of our way of working and a necessity for almost every project to showcase user journeys, interaction patterns, UI feedback and animation. It is just part of who we are and how we do things.
Can you give us an example of a time when prototyping helped JustGiving solve a tricky problem?
Prototyping plays a very important role within JustGiving from communicating an idea to research and development. Rapid paper prototyping helped us test and make a decision between three different design variations for our new donation flow. More advanced high fidelity prototypes helped us explain the value of animation when it is used to give user feedback on a specific interaction. It is only when internal stakeholders see users saying 'Wow!' that they want to go the extra mile and start building delightful details into products. That's how prototypes help us.
Prototyping is just part of who we are and how we do things
What are the particular challenges of UX Design for charitable giving and philanthropy? And the opportunities?
In an age of technological evolution and mobility, democratization of services and goods, JustGiving is the platform that enables everyone around the world to act for social change and showcase their impact.
Our challenge is to enable and inspire as many individuals and organisations as possible to act for good and within that effort to remain neutral and true to the needs of our audiences.
As experience designers, we have to ensure that we are always respectful and inclusive of all causes, that we allow individuals and organizations on our platform to be trusted and to showcase their impact and that we create awareness of the ways that people can act for good.
Making sure that we give the right tools to our users to express their journey towards making a difference is our goal, our day-to-day challenge and what we are committed to doing well. We have observed that the motivation for doing good is driven by example and that showcasing impact is a crucial part of it.
How can UX be used to change the world for the better?
For me, experience design is story-telling across the digital and physical world. By using services and platforms we are more or less consuming that service or platform's story. If we design experiences where the service's heroes are always individuals or organizations that are acting for good then I would say that we use UX to influence the world for better.
At JustGiving, every time a user celebrates the success of a personal crowd-funding or charity campaign, we celebrate with them and help them to spread the word and inspire others.
What makes you excited to get up and go to work in the morning?
Coffee, curiosity and the nature of my job.
What changes will we see in UX in the next 5 or 10 years?
Experience design is now omni-channel. Technology is becoming pervasive and intelligent. We might as well be seen to have a less command – action relationship with technology and instead find ourselves listening more to their intelligence. Designers might as well start thinking even more about all human senses, urban interfaces and the orchestration of our conversations with the machines.

FOUND THIS USEFUL? SHARE WITH
Cassandra Naji
Cassandra is Marketing Lead at Justinmind
Related Content
Facebook: the role of content strategy in design

The important role content plays in UX becomes more evident with each passing day. In this talk we welcomed Product Designers and Content Strategists from Facebook to talk to us about the inextricable link between these two disciplines.

Userzoom: UX research for updates that matter

Product updates are common - but only real data leads us to updates that users can love. Userzoom shares their roadmap for constant improvement!