Prototyping as the gap-filler in requirements definition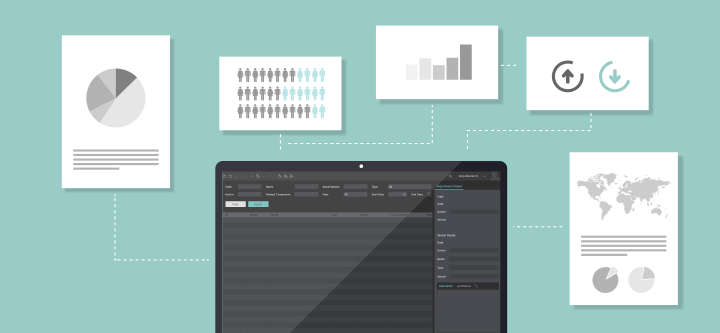 Defining a smart prototyping strategy to improve your requirements management and bring vision to your software development process with Justinmind Enterprise.
Kicking off a project requires creating a project plan, and this involves defining the requirements, you know, the raw deal. Have you ever needed to create a project plan, perhaps simply to have it approved, only to find that it's unworkable when you finally get down to tracking your progress? With the right start, the right ideas in mind, let's take a look a few tricks to achieve those requirements, distribute them to all stakeholders, and improve their understanding with the help of a comprehensive prototyping platform like Justinmind.
The first step is to understand all the requirements, and document them in some way. Now this doesn't necessarily need to involve a requirements document in the traditional way, with hundreds of pages that will hardly be read—that doesn't sound like much fun! Why not capture requirements in context, for example, by creating a prototype of the final project? Assembled collaboratively, a prototype can serve as a briefing of the project for all stakeholders, and – what's even better – an interactive one!
Read on to find out how prototyping with Justinmind can help you scrap heavy product process documentation and make your requirements interactive!
When defining requirements, start with the end in mind
It's all well and good to separate the problem from the solution, and in the software world this is generally where problem statements come into play. Of course, if we want to understand the purpose of our new project, and what it will achieve, we need to be clear about what problem we intend to solve. But to what end? What about the solution? When it comes to requirements management, we shouldn't just describe the problem, we should be offering potential solutions and sculpting a route towards that solution. In order to fully understand the problem, we need to study the issue in the "real world", ask questions about the activities that our project should support, and decide on a suitable scope for the project. Only then can we precisely define the problem.
Essentially, we need to define where we want to go. What do we want to achieve? Which actions do we need our users to perform? Why do we want to build this product in the first place? Justinmind lets you perform hi-fi simulation of your prototypes, testing on the actual device and in web simulators, which can really help you to envision your end product.  The more detail you can go into at the prototyping stage, the better right?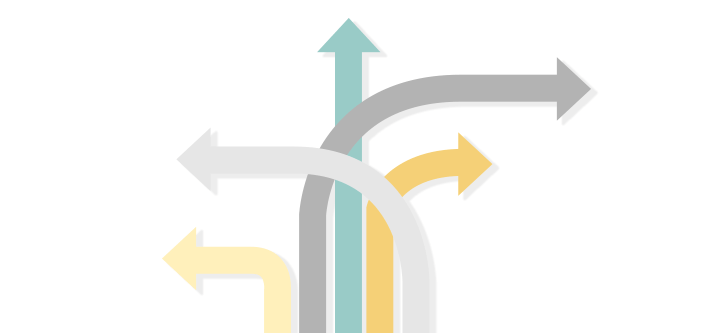 Understand your audience(s) through user testing
The users who may potentially use our product, service or business – whatever the project is steered towards – need to be studied and understood. We should be thinking about who will be using our service. Most of the time, we jump to who the "end-user" will be. But, we will probably have several different users. Let's say we're designing an app for an online travel agency. Some of our users might prefer to browse the latest vacation rentals on their smart phone, whereas others might be planning their holiday on their desktop at the office (naughty!). We can't assume we know our users. We must learn about their personas. After all, people are not the same, and not everyone uses software, websites and apps in the same way. It's important to see things the way the users do, and understand their thinking, needs and values. At the end of the day, they're the ones who matter.
We recommend involving "real-world" users in the planning phase. Iterative, agile product development is imperative to understanding our audience. Building functional prototypes that allow you to export, publish and share your work, as well as test throughout the design process is the way to go! With Justinmind Enterprise,  you can customize your prototypes for added personification: centralized administration of your asset libraries allows you to easily manage and share UI components, and synchronize across all teams.
Design prototypes for human beings
But it's not just about which users use our service, it's about the usage too. Knowing how people will use and interact with our product or service is essential, and can mean the difference between success and failure in a development project. It's very important that our final product is useful and serves a purpose for our selected audience, as well as looking the part.
Let's consider writing user stories to better understand user interaction. What will our application, product or service do? In agile project management, requirements are referred to as User Stories. The idea here is to focus on the actions performed by users and why they have interacted with the product in certain ways—instead of simply defining technical requirements.
The typical structure of a user story looks like this: As a <persona> I want <what> so that <why>.
It's easy to get bogged down in the design process, to think too much about the details and not enough about the bigger picture. So, at the requirements definition stage, let's think about how the form and function of our product coincide and how users will interact with them. There are several unconscious and sub-conscious elements that can change users' perceptions about a website or a program. If we can define our requirements to help users find a specific button, or understand how a program works, we're on the right track.
Remember: defining user-centered requirements works better when you try things out in the flesh, so why not try it out in real-time with interactive prototypes! With Justinmind, you can build user flows with functional scenarios, defining screens, decisions and actions, and integrating them immediately in the design.  

---
Define your requirements smartly with Justinmind Enterprise
---
Create killer content in your prototypes
It's important to think about what really interests people and how they'll react to what we're offering them. Capturing user attention is normally make or break: if the user isn't hooked the first time, they're likely not coming back. So, let's think about our users and dazzle them. But how do we do that from the very beginning of the design process?
Effective planning of a content strategy can help avoid content headaches further down the line, and this goes hand in hand with the design process. But how do we actually start a content strategy: what are the first steps to take? Let's face it: we hate it when things are inconsistent. We get embarrassed if things are outdated or just not clear, but sometimes we don't know how to fix it. Content strategy is the connection.
Justinmind is a powerful tool that allows you to see your design alongside your content, at the earliest stage of the process, by offering a great design environment within the prototyping editor. The platform offers a variety of design features, such as image synchronization, Adobe Illustrator integration, masters and templates, which help you save time by creating and sharing content (headers, footers and more) that you can then use and reuse on any screen. With our tools, you can define all the formatting details of your design, such as creating unique gradients with a combination of colors, orientation, and gradients and use them as different elements of your prototype.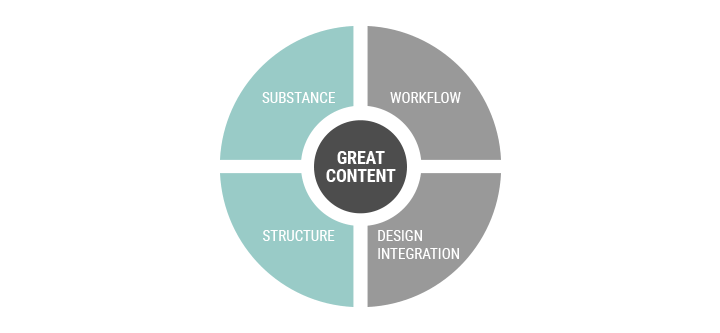 Visualize your requirements in the design process
Teams — both internal and external — are often left immobilized by hefty requirements documents, which are not visual nor interactive, and that only speak one language. Sometimes projects fail because of incorrectly anticipated calculations. Other times they fail because of misunderstandings that occur in the very early stages of projects. Thar's why designing a process and culture where product teams can become autonomous must involve vision. And that's where prototyping comes in handy. With interactive prototyping, we can visualize our ideation and get a real feel for the final product, as demonstrated in the many examples above. And think how great it would be to have requirements integrated! With requirements fully evolved through prototyping, everybody involved in the project – that is, for instance, the designers, business analysts and stakeholders – understands what we want to build. And you can also integrate comments and feedback directly in your prototype, to have one platform (and one language) for all!
Prototyping is the gap-filler in the defining requirements: bringing vision to the process. Start with wireframes, make a mockup, prototype…and then, only then, get down to coding.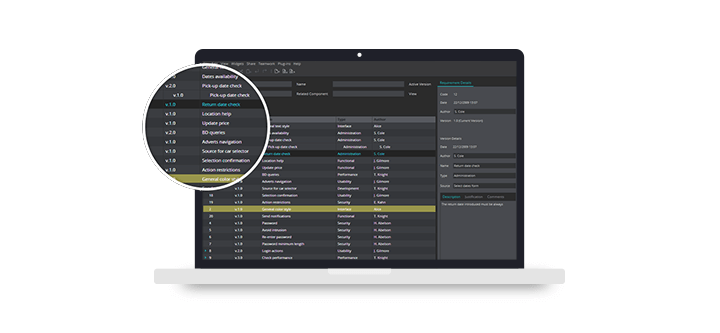 With Justinmind Enterprise, discover how you can easily and efficiently define your requirements. It can take just a fraction of the time spent on documentation to develop a full functioning prototype that everybody involved in the project can envision, understand, and approve. If you haven't already, check out the platform for yourself today and get stuck in to those requirements! Prototype everything, and only code when approved.

FOUND THIS USEFUL? SHARE WITH
Emily Grace Adiseshiah
Emily is Marketing Content Editor at Justinmind
Related Content
Wells Fargo's design system: lessons on growth

Folks quickly noticed they needed a design system - but the road to a good system can often be a maze. Check out how things played out at Wells Fargo.

Learn UX design, Web and App development

Careers in UX design, web and app development are among the most coveted in the tech industry today, though getting into one of these fields is easier said than done. This post aims to point you in the right direction.