Last chance to join Jaime Levy's UX Strategy & Prototyping workshop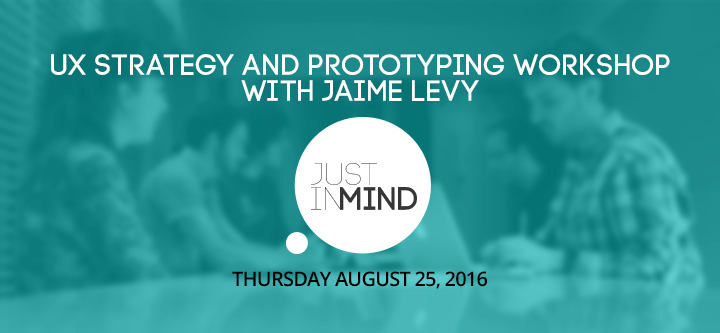 Join UX Strategist Jaime Levy this Thursday as she discusses design hacking innovative concepts into prototypes at her UX Strategy and Prototyping workshop.
This Thursday, August 25th, LA-based UX guru Jaime Levy joins Justinmind in a UX Strategy and Prototyping workshop. The workshop will help UI and UX practitioners, product teams and managers, business execs and startup founders who want to improve their strategic processes and practices. Attendees will learn collaborative techniques that accelerate your thinking around product differentiation and innovative business models. 
Read on for details and for a chance at a promo code!
What you'll learn
• Why the empirical practice of user experience strategy is crucial for devising successful online products
• Ways to poach UI concepts from both competitors and influencers who offer similar feature sets
• How to create a storyboard that focuses on a products' value innovation and business model
• The basics of the prototyping tool Justinmind for creating solution demos for validating assumptions
Agenda, August 25th, 2016
14:00 – A comprehensive overview of the practice of UX strategy and validating a product's value proposition
15:00 – Exercise: Creating a storyboard of an app process
15:30 – Exercise: Creating an interactive prototype with Justinmind
16:30 – Afternoon refreshments
17:00 – The session ends
Workshop Location
The workshop will take place in Justinmind's headquarters, 180 Sansome Street, San Francisco.
It's your last chance! Register now! Retweet #uxstratprototyping @Justinmind for a chance at a promo code!

FOUND THIS USEFUL? SHARE WITH
Emily Grace Adiseshiah
Emily is Marketing Content Editor at Justinmind
Related Content
Hands-on UX Strategy & Prototyping workshop with Jaime Levy 2017

UX strategist Jaime Levy leads our upcoming workshop on defining the perfect UX strategy and validating innovative concepts with interactive prototypes. Don't miss out, sign up...

Integrating Agile and UX Design with Justinmind prototyping tool

Find out how rapid prototyping with Justinmind can help engage stakeholders, improve your UX Design and boost your Agile workflow