Justinmind FREE vs Justinmind PRO edition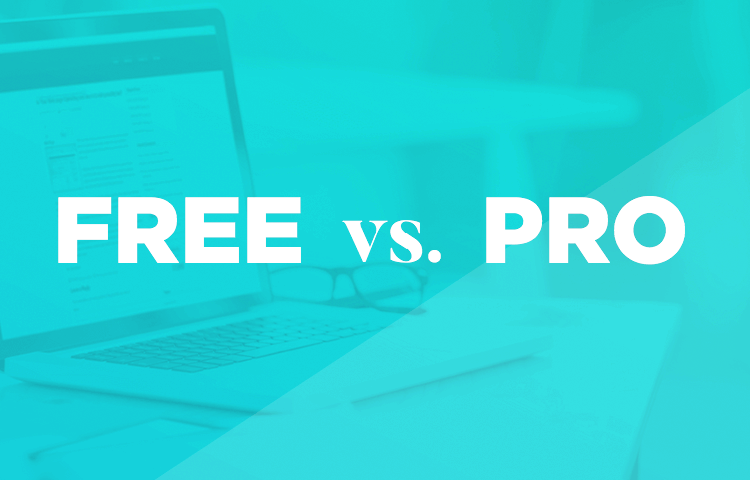 With Justinmind you can build interactive wireframes for mobile and web, free. Unlimited prototypes, unlimited screens – what's not to love?!
The free edition of the wireframing tool is not just a trial, it's free forever. Our free edition is aimed especially at startups or freelancers who deal with small projects and will still find in Justinmind a great wireframe tool.
---
Start your free wireframing journey today
---
With Justinmind Free you will be able to engage with your audience, and to see and show a hi-fi simulation of your project before getting down to coding. Even better, before getting the FREE forever edition you can enjoy our 15-day free full-feature trial and all the great stuff that comes with it.
Let's have a more indepth look at Justinmind FREE features.
JUSTINMIND FREE EDITION: 

A free wireframing tool for your app and web prototypes
     
Unlimited Prototypes and Hi-fi Simulation
No matter if you have a PRO or FREE edition, you can still build as many prototypes and screens as you want, without limits. You can also simulate them with the internal simulator, which allows you to preview the complete experience as in a real device. The simulator is a handy tool in meetings to present web and app wireframes and prototypes to clients and stakeholders. And you can simulate also prototypes created with a PRO account.
   Pre-loaded Widget libraries
Widgets are components that can be used to create unique a UI aesthetic and boost functionality. You can use all the pre-loaded interactive widgets for the web and for mobile devices in Justinmind's website wireframe tool . i.e. widgets for iPhone, iPad, iOS, Android phone and tablet, Google Glass (and more coming soon). To make it easier for you to access the necessary widgets, you can select the desired libraries from the 'add/remove libraries' menu option and only have the ones you need for your project at hand.
  
Basic interactions: Links
You can build Links between screens, which can be done simply dragging the component that acts as a trigger (for instance, a button) to the next location in the screens panel. We don't put a limit on the number of screens or link interactions in our free version, so you and your team can really get a feel for the real thing.
  
Drag & Drop Wireframe Creation
In Justinmind, you can do everything through drag-and-drop, from drawing components to links and interactions. You will learn to appreciate the immediacy and explicitness of Justinmind, which will allow you to create something real and clickable very quickly.
  
Images in motion with clickable regions
You will be able to include images in your wireframe and create clickable regions with the hotspot tool. More design freedom, and free!
JUSTINMIND PRO EDITION: 

A powerful collaborative prototyping tool

So far so good, the free wireframing tool has got enough features to handle small projects. But what about bigger projects that involve more than a couple of people and that require a major involvement at the prototyping stage? Here comes the PRO edition, which is a far more powerful tool. What does the PRO edition include? Let's have a look at its main features.
  
Cloud collaboration, teamwork
One of the major advantages of the PRO edition is represented by its cloud services, which allow you to work simultaneously at your web and app wireframes and prototypes with your team, all in the cloud (or on your own servers with Justinmind Enterprise). You can read more about all the sharing and collaboration features in Justinmind if you want to know more.
  Share and gather feedback
Once your team and you will have the web or app prototype ready, Justinmind's app wireframe tool lets you publish it on the online platform, where all your projects will be listed, and from where you will be able to share them, as well as gather and manage feedback
  
Export to: interactive HTML, Documents and Images
You can export your app and web wireframe to documents, images, and interactive HTML. Exporting it to HTML will allow you to open your project in any Internet browser and distribute it to an unlimited number of key users: they will then be able to execute it and test it.
You can also export all of the information of the app or web wireframe in a specification document to integrate it into the different documentation processes of an organization or, simply, to have a document that can be signed. Finally, you can export any design made in Justinmind (Screens, Templates, Masters or Scenarios) as image files and, for instance, include them into documents or Powerpoint or Keynote slide presentations.
  
Import and create your own widgets 
Apart from taking advantage of the pre-loaded widget libraries, you can create new ones as well as download any existing library and import it in your Justinmind, using the Add/Remove libraries menu option. The widgets will be listed in the My Libraries tab.
   
Advanced Web Interactions and Gestures; Transition effects
With Justinmind Pro you can define many different interactions using the Events tab. You can also add gestures, i.e. those actions that the user has to do on your app (tapping with a finger, swiping on one section of your screen, etc.) to trigger an action. Finally, you can add a transition effect to any link you have in your app or web wireframes.
  Conditional Navigation and Business Logic
Justinmind Pro allows you to add conditions to events so that they only run at certain times of the simulation.
  

Variables. Forms and datagrids simulation
The variables can be used with conditions and allow you to share data between different screens. You can use them to build data driven prototypes too. Justinmind also lets you build data lists and data masters, and populate them with real data coming from an existing database.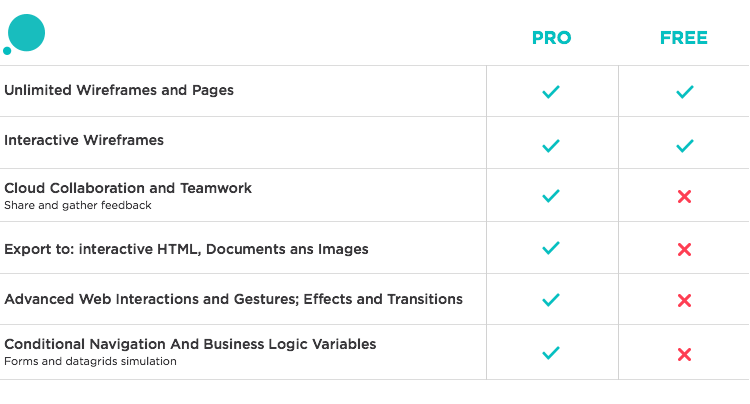 After this analysis, we hope you have a better idea of what you need for your project, so you can decide better which version is good for you.
Justinmind as a free wireframing tool is still a good option for small projects, but with Justinmind PRO you get what you pay for, i.e. a lot more features that will help you build fully interactive web and app wireframes, and easily share them with your audience.
And if the PRO edition still isn't enough for you, you can check out Justinmind Enterprise!
FOUND THIS USEFUL? SHARE WITH
Daniela Castrataro
Daniela is Content Editor at Justinmind
Related Content
App wireframes are crucial in product development, but what is the right approach? How do we build on them? Find it all in this guide!

Navigation design is about creating a system that empowers your users to interact with and use your product. This is everything you need to know

What exactly is a screen mockup and why should you make one? This post addresses why screen mockups are a necessary stage in UI design and aims to provide you with tips on how to get them done fast, with minimum hassle!