7 awesome mobile app mockups to download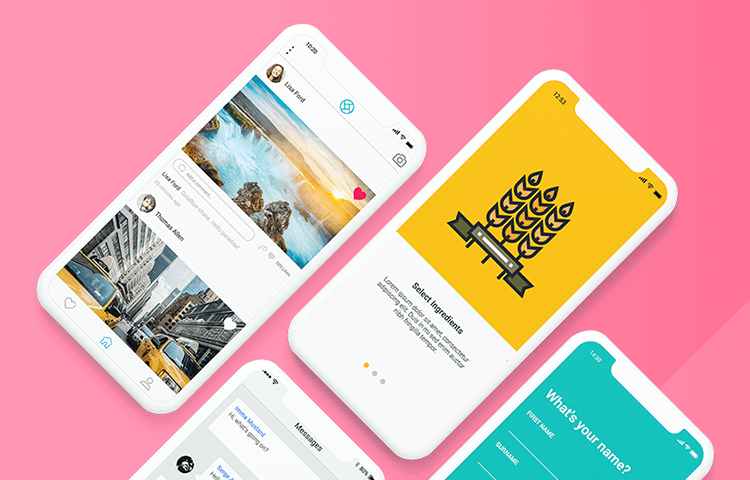 7 free mobile mockup templates to download plus Justinmind's top tips for designing your own mobile app mockup
Designing a mobile app mockup is the best way to visualize how your app will look and feel when complete. It lets you test out both visual and information hierarchy and gives you the opportunity to test drive any gestures such as swiping and tapping. It's also a great way of scoring stakeholder buy-in and gives you a real MVP that you can test out on your users.
---
Download Justinmind and start experimenting with our templates now!
---
However, if you're new to the game or simply don't have time to start from scratch, fear not! We have plenty of templates available. Working with templates is a walk in the park because:
Visual / information hierarchy has already been defined
They let you focus more on brand-specific adjustments like color and font
They help you set design priorities and gauge feasibility of client requests
They bring you to an MVP faster
If you want to design your own mobile app mockup from scratch, or you want the help of a template, this post is for you. Read on for the dos and don'ts of mobile app design and to discover seven brilliant mobile mockup templates to use in the Justinmind mockup tool.
3 top tips for your first mobile app mockup
Make your mobile app mockup usable
Your primary concern throughout the mobile design process should be your users. Users need to know exactly how to work your app, because if they get lost, they may close the app never to return.
That's why designers build functional app mockups with built-in mobile gestures that target users can interact with. Upon completion of the first mobile app mockup iteration, users will be able to test out and give feedback on the app's navigation flow and touch UI elements. This will allow you to make your app mockup as accessible and inclusive as possible.
It goes without saying that both sites and apps should be usable. But when designing a mobile app mockup, you'll also need to think about accommodating smaller screens by appropriately adjusting your use of UI colors, whitespace and touch elements.
Give your users visual cues
Defining and testing out mobile gestures with your target audience is a good way to keep them in the loop. But what about when the user needs more guidance?
Whether they're waiting for a page to load, refreshing their email inbox or filling out a form, your mobile app mockup needs to give the user feedback on their interaction. How? With microinteractions.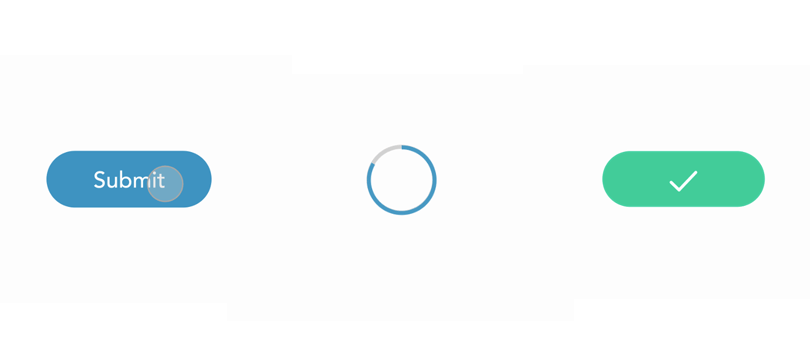 These miniature interactions take place upon a user's interaction with an app, and offer visual and actionable cues on what's coming. Though only engaging the user for an instant, microinteractions provide a more complete picture of the state of the user's request.
Use the right mobile UI pattern
Every user touchpoint in your mobile app relies on your mobile UI pattern, or navigation pattern. The wrong pattern will make it more difficult for your users to get from Point A to B, cause them frustration and diminish the user experience.
Users don't respond well to change – so keep things familiar or you'll quickly lose them.
"People tend to be unaware of an app's navigation until it doesn't meet their expectations." Human Interface Guidelines for iOS
When mocking up a mobile app, it's important to use a mobile pattern that users are comfortable with. This will help to ensure that their experience is as seamless as possible.
Additionally, make sure that your mobile pattern is in sync with your operating system (Android or iOS). For instance, both Android and iOS use tabbed bottom bars. But whilst Android uses the Overflow menu for additional settings, Apple and iOS use the More Options menu.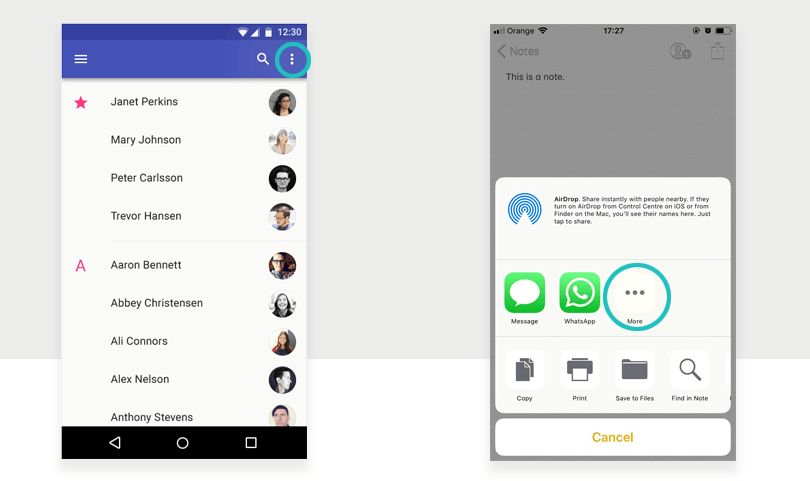 Check out our post on 5 mobile UI navigation patterns for more information.
Mistakes rookie designers make with mobile app mockups
No matter what kind of mobile app mockup you're designing, a good designer won't deviate from design standards or principles. Here are a couple of bad design habits to avoid when approaching the mockup phase:
Skimping on the onboarding process
Every mobile app needs to offer their new users an onboarding experience. Onboarding helps introduce new users to the app, walk them through features and set up their online account.
Keep onboarding short, focused and interactive to avoid cognitive load. Successful onboarding can help improve user retention and engagement.
Not

 

setting defaults

Apps with great UX are those that save users time and effort. Mobile users are often on the go, and don't have the time or patience to be asked for the same information twice. Default values and placeholders – such as suggestions in sign up form input fields and recent places in map apps – can be a big help (see out tutorial on how to add placeholders to mobile app mockups).

But what's even more important than design pitfalls? Using the right tool to mock up your app! Justinmind allows you to mock up the visual and functional components of your mobile app and them test them with real users. That's why it's one of the best mockup and wireframing design tools out there.
7 mobile app mockup templates that will solve all your problems
Here are 7 free mobile app mockup templates to download and customize ?
Product walkthrough mobile app mockup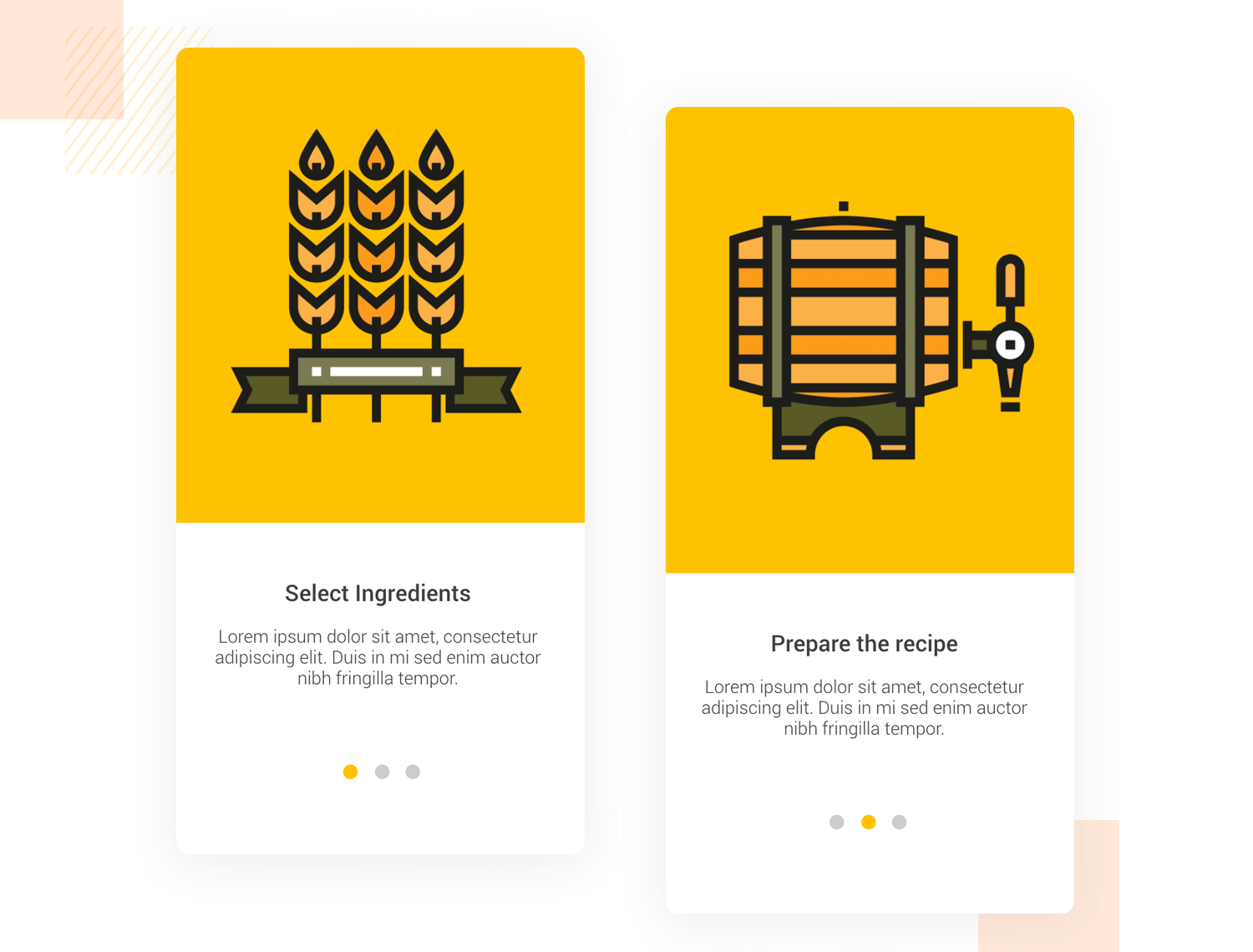 Product walkthroughs are used in onboarding, to make apps more intuitive and straightforward. Block colors, minimalist visuals and simple instructions are key to making your mobile onboarding experience run smoothly. Slide to the left or right to move between the pages in the walkthrough.
Watch this video to see how we made ours!
Screen flow validation mockup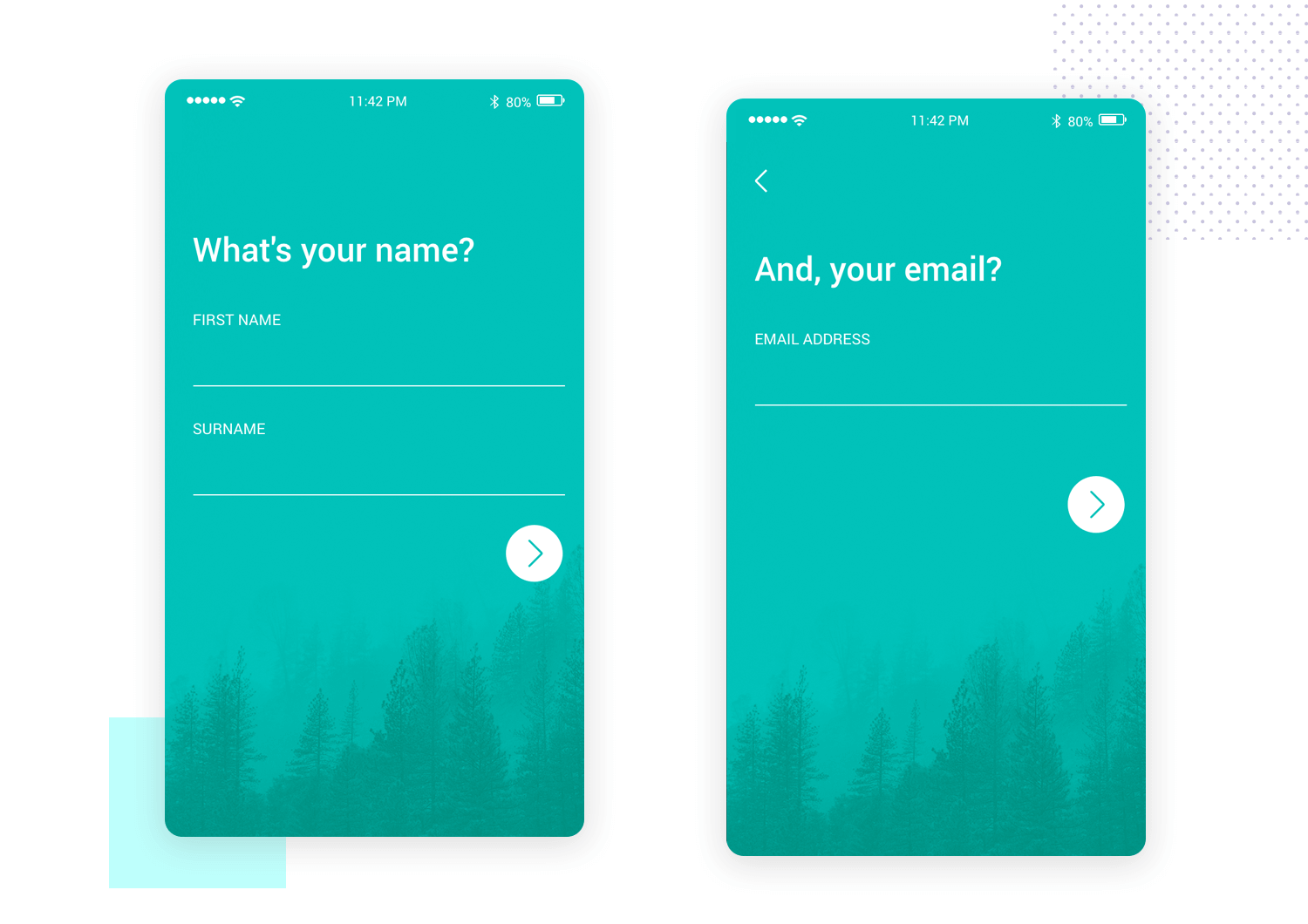 This is a great example of an easy-to-use registration form, requiring the least possible user effort. When the user inputs their name, email or password and hits return, the next screen slides in automatically negating the need for the user to scroll.
Photo sharing app mockup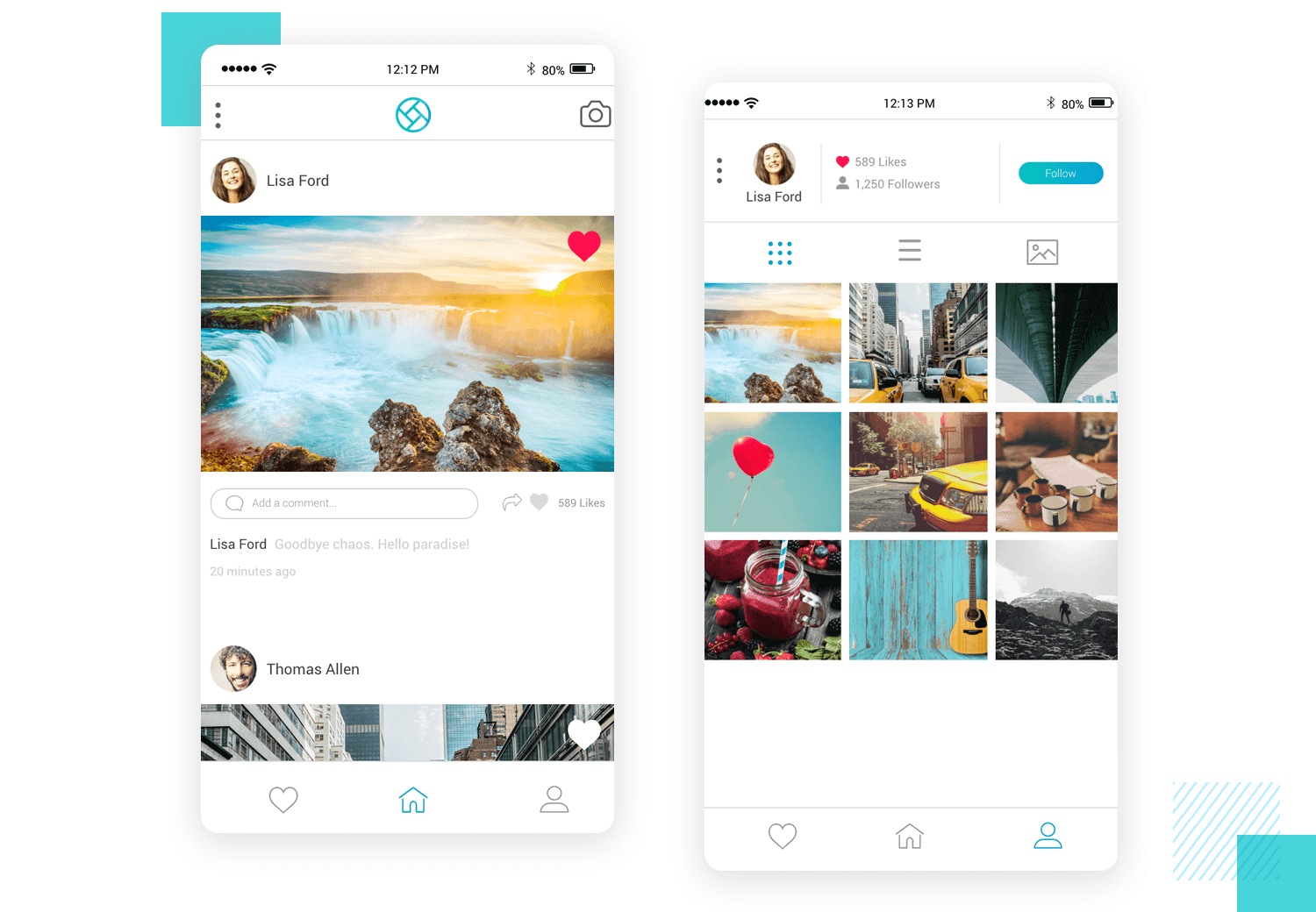 Our very own photo sharing mobile app mockup. Get ready to rival Instagram ?
After a beautifully simple login screen (hint: the username and password are hidden in plain sight… talk about reveal!), the user is taken through into a familiar-feeling photostream. The interface is scrollable, and tapping on a photo triggers a micro-interaction, complete with a UI animation.
You can click through to see a user's profile, change the layout type and zoom in on individual shots – note the cool transition animation here.
Flight booking app mockup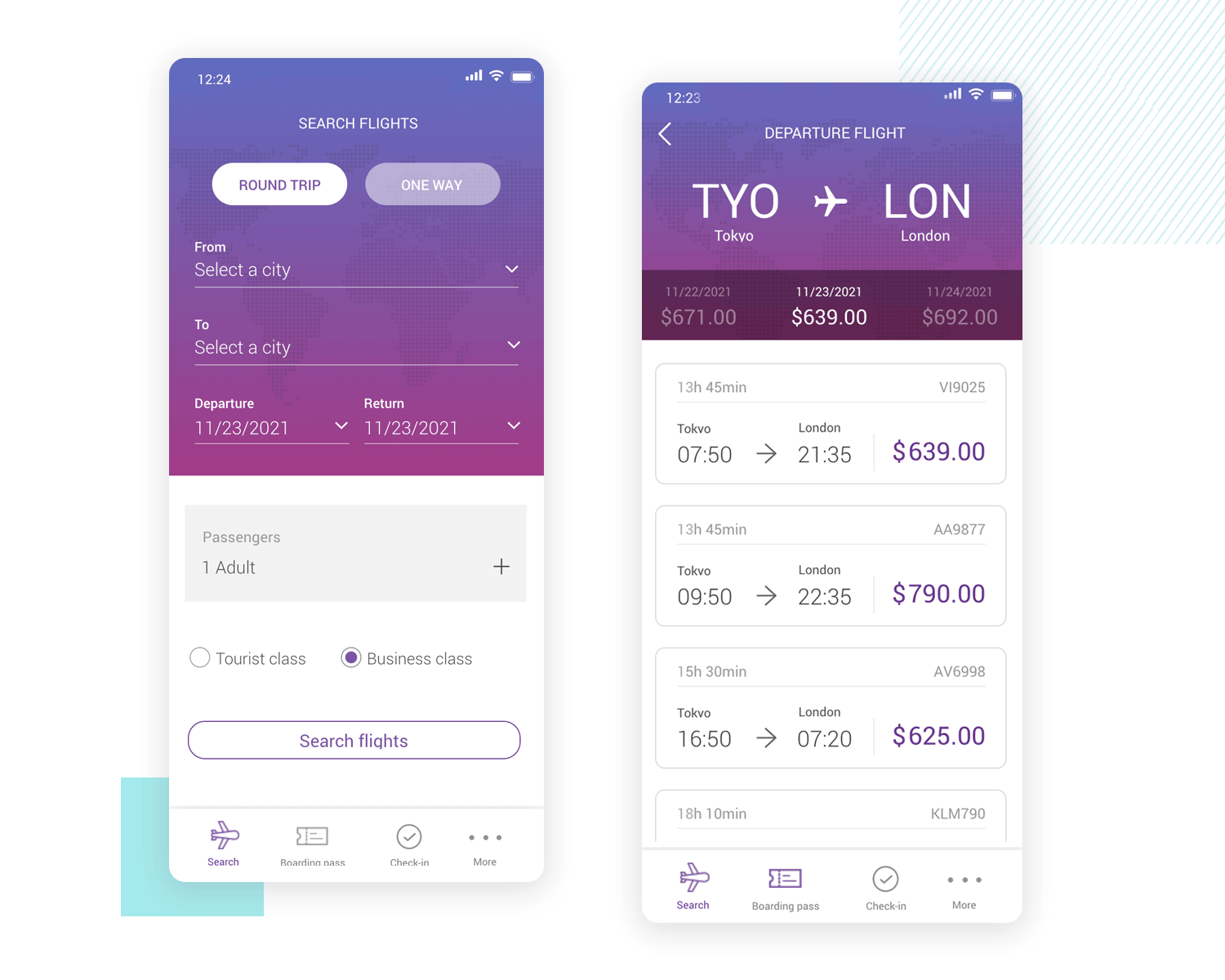 This native iOS flight booking app prototype features a date picker and multiple interactive dialogs which allow the user to easily book their travel plans. The easy-to-follow steps guide the user through the flight search and booking process, right up to displaying the boarding passes including flight information and passenger information the user entered.
Check out the neat transition animations as you move between the different screens: they're subtle but still noticeable. Transitions like this help the user to understand that they're moving forward in a process. Error messages appear as a floating layer when one or more necessary fields are left blank.
Messaging app mockup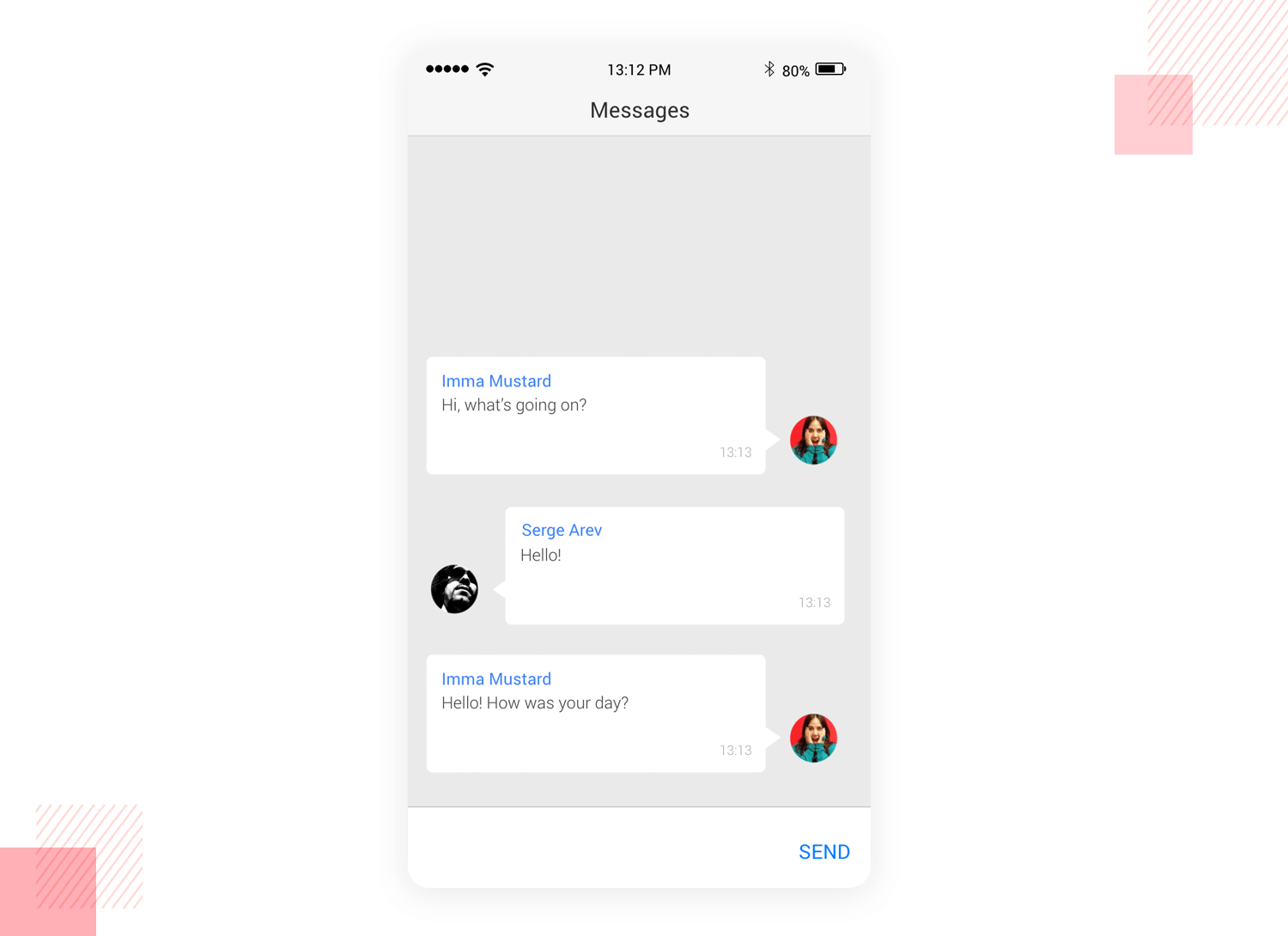 Loading up our fab messaging app prototype for Android, you go straight into a login screen, nice and simple and with a modern-looking gradient, and a big bold login button. Once logged in, you see the recent chats screen, complete with a nice animation on the big 'new chat' button on the bottom right.
Tapping one of the chats will open it in a new screen, with a slight microinteraction animation to confirm the action. The hamburger menu on the left slides in a layer which gives you access to the Chats, Profile, Contacts and Files screens, as well as an option to sign out.
Slide menu mockup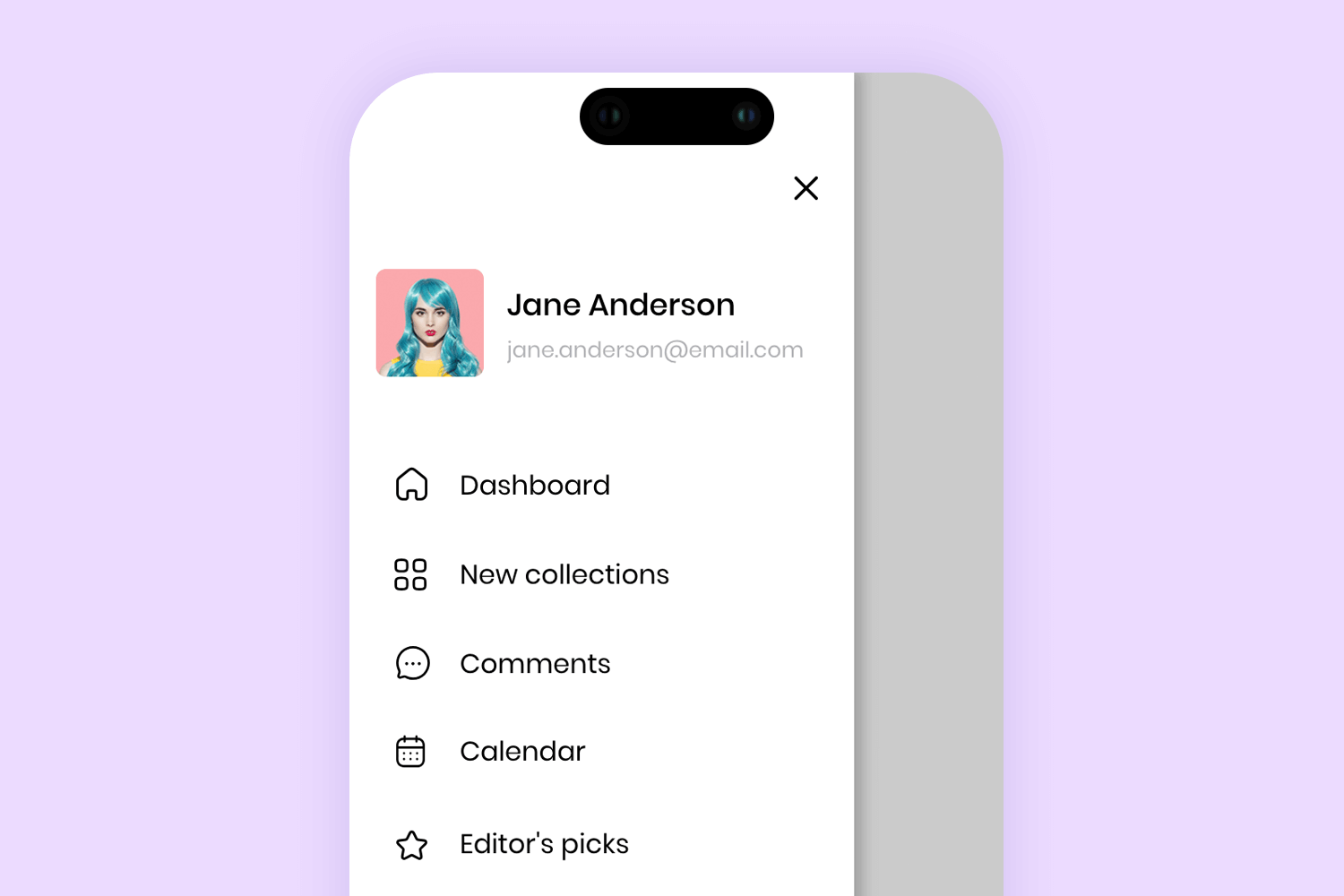 One feature you'll see in a large number of mobile apps, particularly on Android, is the slide menu. While they're not without their controversies, when done properly, a slide menu can add a useful series of navigation and configuration options while saving on precious real estate. Revealing as a new layer with a smooth transition, the slide menu usually gives you access to otherwise hidden elements, like profile controls, navigation or folder options (think: Gmail) and often an advanced settings button.
iOS passcode screen mockup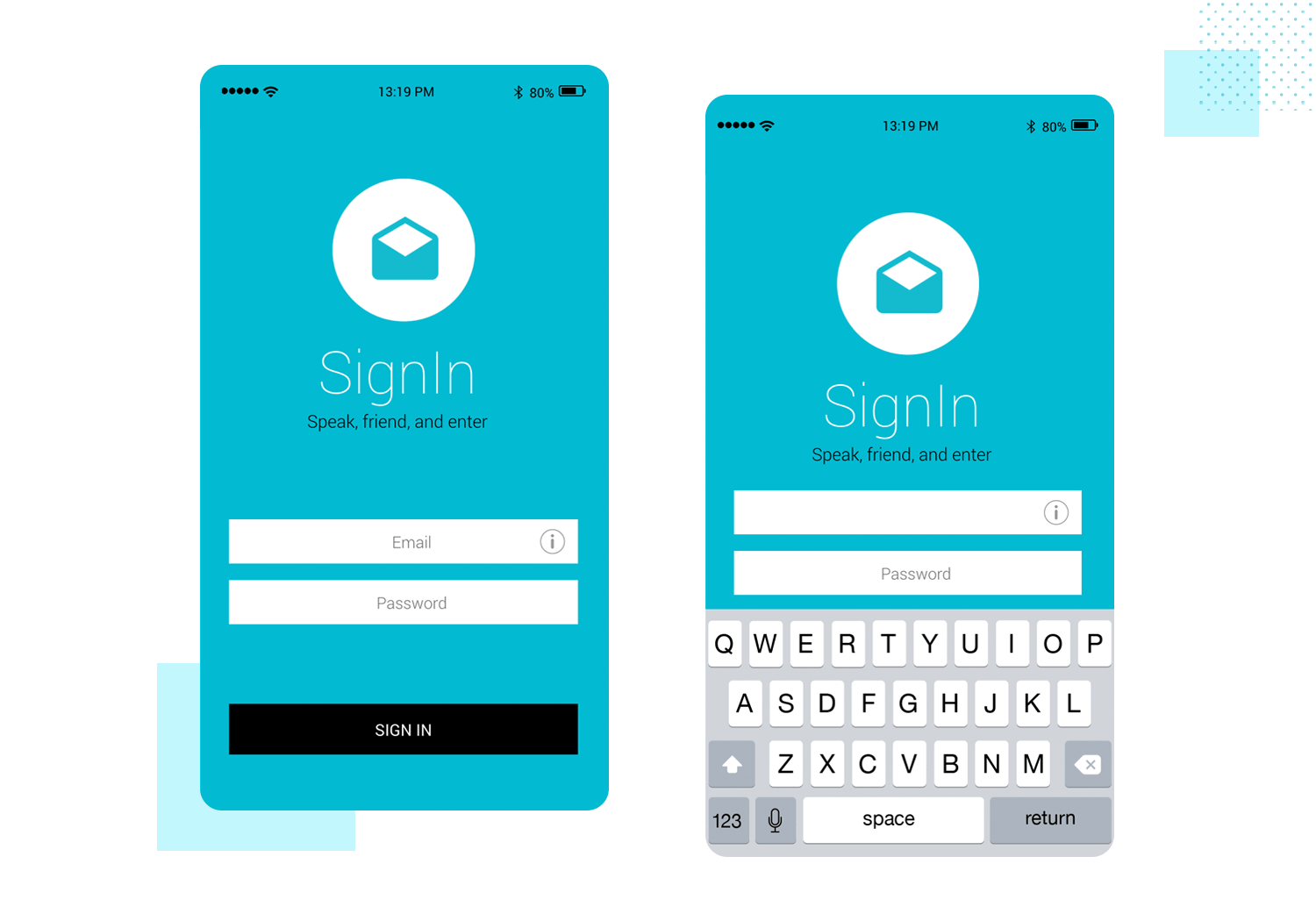 Our sign in screen mockup uses elements from the iOS UI kit to simulate signing in to an app on an iOS device. You'll need to use the correct credentials – if you don't, you'll see an error message explaining that you need to try again. Sign in successfully and you'll find yourself in the familiar surroundings of the iPhone's Mail app.
You can find more awesome mockup examples on Justinmind's Examples page.
Conclusion
Designing a mobile app mockup is, or should be, a critical part of your product development roadmap. The combination of advantages that a mockup offers in terms of completing the final product to meet client requirements and user expectations, while providing your colleagues with a complete picture of how it should look and feel is unbeatable. Download any of the mobile app mockup examples we've included here, take a look at how it works in Justinmind, and we're sure you'll be convinced.

FOUND THIS USEFUL? SHARE WITH
Emily Grace Adiseshiah
Emily is Marketing Content Editor at Justinmind
Related Content
Guide to app interaction and gestures for iOS and Android

Getting app interactions and gestures right are essential for great UX. They can boost your app's intuitiveness, help your user get things done faster and maybe even prompt a smile! This guide shows you how to nail this important design technique!

Tap or swipe mobile gestures? Which one should you design with?

Tap or swipe mobile gestures? Which gesture should you include in your mobile app UI design? Read our comparison to help you decide!