UX insights & hi-fi prototyping with Fjord's UX designer Essi Salonen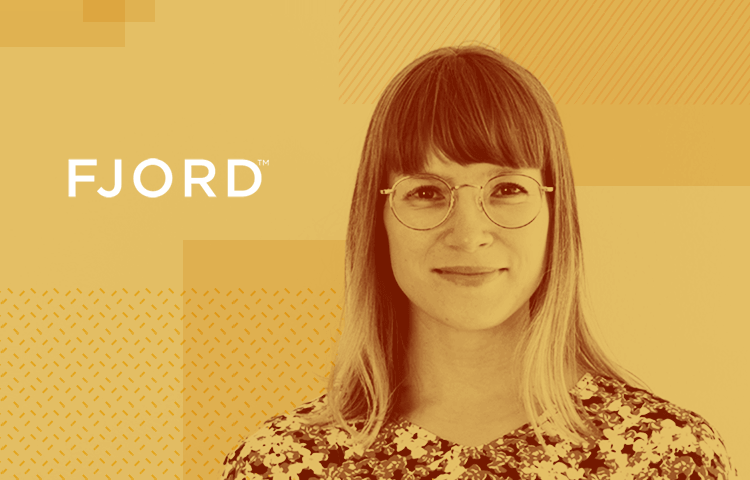 Innovative web design, contemporary dance & a bucketful of empathy: all the essentials for awesome UX with Fjord's Essi Salonen
With the surge in wearables and voice recognition technology, users are becoming more ambitious about how they interact with their devices and products. User experience designers have their work cut out for them to keep up with new UX trends, in order to create meaningful and delightful user experience.
As UX Designer at design consultancy, Fjord, Essi Salonen knows that keeping users engaged is a full time job. And as a contemporary dancer, she understands the importance of empathy and taking the time to get to know your users.
The team at Justinmind was stoked to hear her insights into designing experiences to relieve user pain points, for both digital and offline products and services.
---
Download Justinmind now and up your UX design game 
---
In our Q&A, Essi shares her wisdom on UX trends across continents, high-fidelity prototyping at Fjord and the importance of including users in the design testing process in order to build great products.
Hi Essi! Could you start by telling us what attracted you to UX/Communication design? What were you doing before you got into UX?
I started my career in product and service branding in the mid 2000s in Helsinki. After few years in advertising, I realized I wanted my design work to have a bigger and more positive impact. In order to do that, I moved to London to do my master's degree in Communication Design at Central Saint Martins.
While there, I worked with IDEO and found my calling in service design. After graduating, I wanted to work in the field of user experience and moved to San Francisco to work in startups.
UX design thinking is typically applied to improving web and mobile technology. But having designed for other media (sculptures, performances and live events) as well, what does user experience mean to you?
User experience is the overall journey a person goes through with any given service or product. For example, when a person visits a museum, their visit has already begun before they have walked through the entrance.
User pain points are the opportunities to design for.
As designers, we need to understand how the visitor found information about the exhibit, if they were able to navigate the museum website to learn more, and if they did, how easy was it to find what they were looking for. After the visit their user journey continues: did they share their visit details on social media? Did they return to the website to learn more and recommend the exhibit to their friends? Did they return to see another exhibition?
In order to design an experience, you need to look at all the touch points the user has with the product/service and understand their highs and lows within that experience. Those lows, or pain points if you will, are the opportunities to design for.
What's the first thing you would tell someone looking to become a UX designer?
You need curiosity and empathy. Curiosity will help you uncover crucial things about the person using the product. Empathy will help you design an experience with that person in mind.
When designing experiences, you're essentially solving problems. Where does empathy come into this for you? Can you learn how to empathize?
Design work starts with empathy. It means looking at the experience from the user's perspective. You learn empathy by interviewing the people using the product or service you are designing for, observing them using it, and testing and refining your solutions with them.
You are not trying to design what your users want but rather uncover the needs that they might not even be aware of themselves.
You have a user-centered approach to web and mobile design. What's the role of user testing in your work flow?
Design consulting work does not always result in a tangible outcome. But when we are working on an actual product, we do validate our designs with the end users or subject matter experts.
As a rule of thumb, if you want your product to be useful and helpful for the people using it, then you need to test it. Even if you think you are on the right track, you still need to get the details right. That's where user testing will help.
As a contemporary dancer, do you think your approach to design is different to that of other UXers?
As a designer who is also a contemporary dancer, I am very interested in kinesthetic empathy, which means empathizing with people as they move and act. Designers are good at empathizing with other people when they interact with devices but we are not as aware of how the body moves or how it affects the user experience.  
It has been said that spectators of dance, or any kind of sports for example, experience kinesthetic empathy even when they are sitting still. So in a way, they are participating in the movements they observe. As designers, we all have this ability to "feel" other people move, but we need to become more aware of this in order to translate that internal knowledge into our designs.
How does working as a freelance designer compare to working in-house at Fjord?
Scale: Being part of a large ecosystem of Accenture, we get to work on big challenges that reach millions of people. That can be very meaningful. I am working on challenges that – if overcome – can have a huge positive impact on the world.
Collaboration: Our teams work very collaboratively. A typical project team consists of a visual designer, a service designer, an interaction designer and a program manager. Normally everyone within the team participates in research and interviews. Everyone in the team actively helps to shape the project strategy and is part of the concept creation.
One of the guiding principles at Fjord is putting 'design at the heart'. Can you describe the product creation process?
The product creation process at Fjord involves iterative, non-linear co-creation with the design team, stakeholders and with the people using the product.
Our product discovery starts with us looking at the current state. We do this by interviewing the stakeholders for alignment and by interviewing the users to understand their needs and pain points.
From those user insights we might create a journey map that reveals the design opportunities. We use the user journey map – an actual physical poster – to co-create solutions with our stakeholders. Then we refine the concept ideas, sketch and create prototypes that we test with the stakeholders and users.
What is the biggest challenge for your team when designing for clients in the 'era of liquid expectations'?
Like the term suggests, people's expectations of product and service experiences are being defined by, not only the related, but also by the unrelated services they interact with. People are used to instant pickup and delivery services direct to their doorstep. That means that they expect the same swiftness and personalization from tax companies and immigration services, for example.
Because of this change in people's perception, many companies need to rethink their strategy and become more design aware. One of our biggest challenges is to find the right tools for the clients so they feel empowered to incorporate design thinking, and more importantly, design doing into their process.
How does prototyping come into the UX design process over there? What problems have been solved through using a prototyping tool?
For us prototypes help to communicate our designs to our clients. But they also help us to test and validate our assumptions with users before a product gets built for real. For example, for a pitch we did for The State of California Child Welfare Services, we showcased our development capabilities by creating a working prototype.
How would you compare the UX culture and trends back home in Helsinki with those in San Francisco?
In Finland, and in Nordic Countries in general, participatory design (involving and co-creating with the users and stakeholders) has a long history in the design culture. That's one of the reasons companies are quite familiar with service design and the user-centered approach. Also, in Finland, appreciation for simple and clear visuals is a driving force for easy to use digital experiences.
Among the San Francisco and Bay Area designers, there is a strong understanding of the UX principles and how to create world-class digital experiences.
Image credit: Allison Bouganim
FOUND THIS USEFUL? SHARE WITH
Emily Grace Adiseshiah
Emily is Marketing Content Editor at Justinmind
Related Content
Why should you use user personas and how do you create them? Get all the steps to build one, as well as a great example and a list of user persona generators!

UX design books that cover everything from layout design to the theory of user testing. Want to expand your horizons? Check out this awesome list!

UX design portfolios are your chance to showcase your top skills and best work. Check out this post for awesome portfolio examples and websites!