Prototype meet Skateboard: a Boosted Boards case study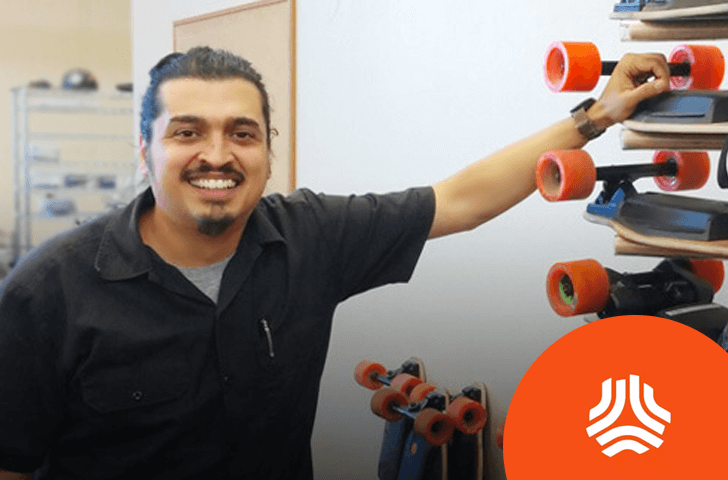 Interactive prototyping with Justinmind bumps up the UX design process at Electric skateboard company, Boosted Boards.
We recently met with the awesome Emilio Gonzalez, Boosted Board's Senior UX Designer, who has been using Justinmind to design the company's iOS mobile app. Boosted Boards design electric skateboards in Mountain View, in Northern California's San Francisco Bay Area.
Emilio worked on the Boosted app for iOS, focusing on connecting their electric skateboards with other devices. The app is part of the company's marketing campaign designed to encourage use of the board as a way of life for a wide range of user profiles.
Justinmind featured as Emilio's key prototyping tool during the app designing process. Let's take a look at how he's been getting on with Justinmind:
The UX Workflow at Boosted Boards
When Emilio first started working at Boosted Boards, his design process began by sketching the board features on paper, then he'd proceed to build them up with Photoshop or Illustrator, add animations using Adobe Edge, and then present them to the team in a Google Doc. Emilio found that some of the programs he was using were not purpose-built for multi-screen interaction, and he had a hard time chaining screens together. That's when he found Justinmind.
"I love that I'm able to jump straight to Justinmind from paper" says Emilio. He goes on to explain that, he really values ease of use in his work, and being able to drag & drop and wireframe everything together with just a few clicks is ideal.
Really fast, really easy prototyping: Emilio finds that the Justinmind built-in UI tools are really handy, both for building up simple designs as well as the more complex designs.
Justinmind offers a seamless workflow. A lot of apps view themselves as powerful tools, but at the end of the day, the designer has to spend most of the time getting to know the tool and adapting their process to that of the tool. With Justinmind, Emilio is able to just throw things together—just by using internal widgets, without needing to use his own images.
"It's easy to get things into the Justinmind tool, as well as get things out of it."
Skate and create with Justinmind prototyping
Emilio tells us that his favorite thing about Justinmind is that it's a desktop tool that really works. "It fits in with my normal creative environment", he says, "and that's definitely one of the most important factors for me when choosing a design tool". Many people put things online because they're easier to develop in this way, but it's not always great for users.
For Emilio, one of the best things he's learned over and over is to look at your design on the screen, in context. Justinmind was built by designers for designers. And it gives you the ability to simulate your prototypes in web browser at any stage of the process.
"Closing the gap between my simpler wireframes and interactive prototypes. I chose Justinmind because it strikes a balance and it's nailed what I need from prototyping."
For Emilio, the events system and the animations are a great way to augment his prototypes. It bridges the gap between easy-to-use prototyping software and the more complex. He was able to include interactions in a timeline-like fashion and he found them to be really straight forward in terms of usability: "they're easy to follow, and therefore it's easy to put things together."
Justinmind also allows you to take existing prototypes and customize and add to them, creating additional screens, and for Emilio this was really a bonus as he's had trouble with this aspect in past tools.
The structure of the screens in the Justinmind platform means that you can do a lot in terms of hi-fi prototyping without rework, and then transition to other screens easily. On top of that, he points out, the scrolls are awesome: "you can add a scroll to the whole page and also there's the parallax element that allows you to change the scroll speed, which I love!"
Additionally, Justinmind Data Masters help Emilio build lists and rows of information and data, and the Justinmind examples and tutorials helped him get his head around the features.
---
Download Justinmind today to make your UX design process fail-safe.
---
Justinmind Teamwork and Feedback prototyping features
"The prototyping features are amazing, and the commenting tool is just icing on the cake."
Boosted Boards has been using Justinmind to perform Beta tests and solicit feedback. Emilio explains that his team was able to use the tools easily, right from the start: "the funny thing is that I never had to tell people about the feedback feature, they found it and just started using it."
Everyone is always busy. When we send an email out to our team to get feedback about a design, they don't always reply because they've got so much going on. But with Justinmind, they can leave their feedback directly in the prototype—it's so straight forward. To get feedback, Emilio shows his team the prototype on a mobile device and then uses the share options to email it to the CEO and the marketing people and stakeholders.
"This way is so much easier than having to run a web server!" With Justinmind's feedback features, people can click on things, read them and actually make their comments. It can save a lot of time because colleagues can give feedback comfortably, on their own time. They're not going to push it to the back of the to-do pile, along with all the emails they have to write.
"I really like the comments system!" Emilio reveals. "Sometimes we have meetings and we'll review a prototype together, and then there are times when people are out of the country, so being able to look, comment and make their changes to the same prototype remotely, is just great. And eventually we will need to send the app to external testers and look to skaters around the world for feedback with the public link and review options—it's very easy to be transparent and visible with our prototypes when they're easy to share and easy to use. It really impacts the quality of feedback."
A new skate of mind: improving the UX workflow
Justinmind helps you to build prototypes without compromise. For customers, it means that they don't have to think about which tool they want to use: they can simply sit down to Justinmind and build as they want to at that particular point. It's powerful enough that they can make complex designs with variables and pass things around, or make a quick wireframe, and then export it as an image.
For Emilio, he doesn't have to think a lot about what he wants to get out of the finished prototype based on whether the tool that he's using may or may not work with it. With Justinmind, he can rely on the fact that he'll be able to accomplish what he wants to with Justinmind.
"Justinmind doesn't punish you for wanting to do things simply but it's still very powerful. It's as simple or complex as you make it."
Keep rollin' on: the next stage with Justinmind prototyping
So what' next for Emilio and Justinmind? Well, he's going to try out our integration with Illustrator. His work requires use of Adobe so being able to copy and paste, and drag & drop images and hot spots from Illustrator and then tweak them in the editor, as well as fill in custom UI kits, such as the iOS UI widgets should make his work much easier!
Oh, and multiple device simulating! "It looks like that's going to be great with Justinmind", Emilio tell us, "and I want to get that point."
And we say go for it! And let us know how you get on with those features 🙂
For those of you who would like to know more about Booster Board's iOS mobile app, you can find more information here. The features include:
Designed for both iPhone and iPad, Bluetooth is available for use between the board and the remote Bluetooth to connect to nearby devices
Connect to a phone instead of a remote without any additional hardware
Record information such as distance traveled and battery life
Motor control system for wireless software updates.
Different speed and range modes
Range estimator based on weight, type of riding, style
Over-the-air firmware updates to track usage and increase speed, power, and braking of the board
If you would like to get in touch and tell us about your own experience with Justinmind, we'd love to hear from you. And, if you're new to the tool, what are you waiting for?! Get prototyping!
FOUND THIS USEFUL? SHARE WITH
Emily Grace Adiseshiah
Emily is Marketing Content Editor at Justinmind