The perfect blend of content and design to improve UX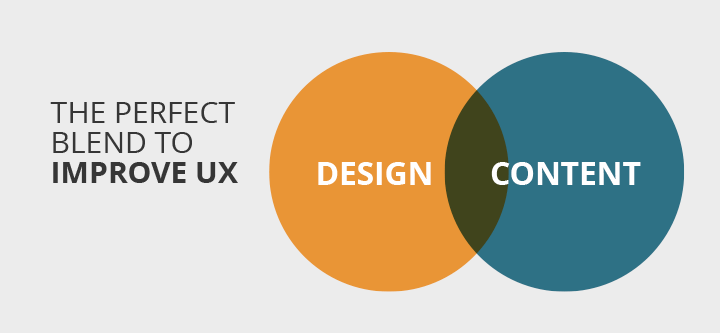 Discussing the inherent link between content and visual design in the web design process. Get it right, now!
When it comes to web design, there are many elements to take into account, an important one being content. More often than not though, we keep content at a distance from the actual design process – much to our own demise. This post will explain the necessary bond between two essential ingredients in web design: content and UX design.
A look to the past
Historically, content and design have been organized separately. We've known them as two different entities in the web and software design hemisphere. As teams, both would meet in conference rooms and occasionally at going away parties, but mostly they were distant so as to focus on their 'different tasks'.
It's clear that the two are integral aspects of the web design process and so sometimes we assume that they should be treated as individual elements. If we go down this road, merging them would create distraction and not solve any real problems, right?
Well maybe once upon a time. But, times have changed, and now that we can study how content and design affects the user's experiences, we can see how devastating their separation can be. We must get on board with the fact that content and design models are each incomplete without the other.
Perception Vs Reality
Content. It's a tricky business. What counts as content? A website's homepage? The blog? The Help and Support section, the FAQs? Yes, that's all content, visual content. What about hidden content, the stuff that we doesn't actually see but interact with on a website or mobile app all the time? Remember, a content model is as much about the content that isn't seen by the user  —  the string that holds it all together — as it is about the visual goods. Hidden content still needs to exist and needs thought and effort to produce and sustain. Anything that the user interacts with is content: be it the obvious or the more subtle details. As Steven Bradley writes: "Every aspect of your design is perceived by visitors and what they perceive alters their reality from that point on." For instance, the color blue is often used by web designers to communicate trust to the user.
In reality, users don't separate UX design from content, so why should we? After all, the user is king. As Jared M. Pool points out in his 'Content and Design Are Inseparable Work Partners': "we need to shift our definition of content to what the user needs right now", and not what the design team assumes it to be. There's a great example of the differing perceptions between what an organization deems as content, and what the user sees here. We learn that content does not (necessarily) have anything to do with how it's produced or where it lives. Essentially, Jared adds, "if the user needs it, it's content".
So, are we asking the right questions in order to get the results we want? Not always, no. It seems that we're too focused on separating content and UX design. We're looking at the content and design models are an either/or problem, when we should ideally be looking at it them a both/and point of view. It shouldn't be a case of content being more important than design. Rather, we should look to awaken the potential of both elements and create a powerful, harmonious content design strategy, that really appeals to the user. We need to continuously ask ourselves, "what is it that our users want?" We need to know what the user wants and needs now, as well as be able to anticipate what they are going to need in the future. And how do we know what the user needs? That one's easy: user research and user testing.
---
Download Justinmind today and design better prototypes
---
Content & Design: The way it should be
The way we see it, working on UX design without the content is a waste of time: it's a short-lived love affair. The user will enjoy it for a while, but ultimately be left unsatisfied. Digital work is inherently iterative, overlapping, and can be clumsy. The web designer's work used to be less problematic, it seems, because each team member had definitive parts to play, and our designers were hired based on their skill and knowledge of their field. Flash forward to today, and the advances in responsive, adaptive, sensor-rich, digital design have made things more complex. Today, we've improving user experiences by breaking with the culture that we once fell for.
"Content is the entire reason people come to the design in the first place." — Steph Hay
Yes, seasoned UXers will know that content contributes mountains in the design process. Content should be informative yet clean and brief, SEO-friendly, and engaging. People often remember (or don't) a website by the content they have seen, and what information they were able to get their heads around. But there's still something missing. It's not just good content that needs to be present on the website to produce great user experiences. Design is deeply embedded into the user experience. Let's ask ourselves: "How should we distribute content on our site?" and "How can we engage the user on a visual, as well as on a knowledge-based level?" An effective content strategy takes more than just great writing: UX design is directly tied to reader enjoyment.
" Content creation and management cannot be a separate endeavor from UX design creation and management." — Jared M. Pool
Content and design need to be inseparably managed and integrated in order for us to achieve great experiences. And of course, let's not forget the importance of prototyping when defining our content and design strategy. By integrating a prototyping tool into your design process, we're able to better translate our creative visions, which is a huge step towards creating better products.
Effective collaboration of content and design teams
In order to effectively merge UX design and content, we need collaboration across teams. Collaboration is a mix of vision and conversation, the synergy of multiple elements coming together.  With collaboration and communication, content and UX design can thrive together!
With the right prototyping tool, designers are able to quickly try out ideas, without being forced into a corner or adapt their designs to the software. Justinmind offers UXers and content writers, managers and strategists the chance to work collaboratively on the same tool in order to define their ideas together. Try it out for yourself today, you'll see what we mean.

FOUND THIS USEFUL? SHARE WITH
Emily Grace Adiseshiah
Emily is Marketing Content Editor at Justinmind
Related Content
Best 15 usability testing tools for happy users

Usability testing tools are growing in numbers and features. But which is the right one for you? Take a look at this list of 15 awesome platforms and find out!

Website heatmaps: your complete guide

Website heatmaps – a simple but powerful technique to glean powerful insights about how you can boost your website's conversion. Discover how you can employ this technique today and some of the best tools on the market.

Card sorting: your complete guide

Card sorting is a simple, yet powerful technique for improving the overall intuitiveness of your website. In this guide, find out how you can use card sorting to improve your website's information architecture and see our list of the best online tools to get the job done.