Rapid prototyping isn't helpful. Or is it?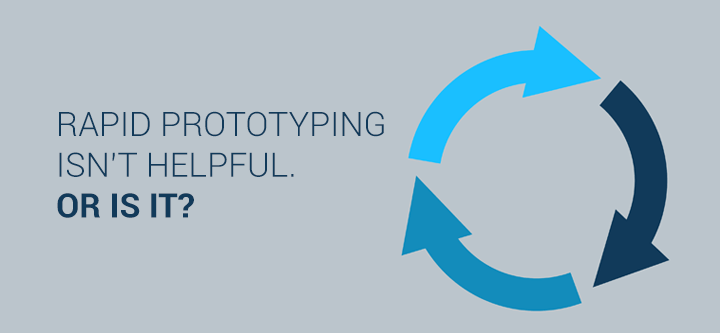 Prototyping has become a crucial phase of the software development life cycle. In this post, we're debunking some myths related to rapid prototyping in software and product development.
In the digital sphere in recent years, we've seen a shift in focus from sketching and designing using graphic design tools to rapid prototyping, a quick and iterative approach to user interface design. Rapid prototyping can be linked to the RAD (Rapid Application Development) model, based on prototyping and iterative development.
Despite its uses in the software development industry, which we will outline in this post, rapid prototyping receives a fair amount of criticism from product managers and designers alike. In this post, we'll attempt to debunk some myths and reveal some truths about rapid prototyping in the product development life cycle.
The Rapid Prototyping Process
Prototype: translating ideas into visual and functional representations with a prototyping tool such as Justinmind
Review: share the prototype with target user groups, stakeholders and your team to evaluate the visual and interactive characteristics
Refine: use feedback from the review stage to perform iterations that intend to make a truer, more polished replica of the end product
Myth #1 Rapid prototyping isn't actually rapid
"Prototyping well is an essential contributor to the speed of your innovation efforts." Langdon Morris on how prototyping can help to speed up your development process
Actually, the genius behind rapid prototyping lies in the quickness of each iteration. Much like with traditional web prototyping, rapid prototyping also intends to improve product and web design with each iteration. The difference, however, lies in the speed at which each iteration is carried out, allowing changes to be applied easily and instantly.
How's this? Simple: As Alex Fedorov, Co-Founder & Director of User Experience at design and strategy firm Fresh Tilled Soil has it here, rapid prototyping requires "shaving out features that don't make a real impact and focusing on the core value", making for a more streamlined process.
With the flexibility of quickly and easily creating and iterating your design, rapid prototyping allows you to cut down time to release: speedy prototyping + speedy review + speedy refining = less time to development.
So where does rapid prototyping work well? In a Lean UX working environment. A Harvard report discusses the importance of batch size in product development. They conclude that "small batches allow manufacturers to slash work in process and accelerate feedback, which, in turn, improves cycle times, quality, and efficiency." Similarly, the streamlined approach to software development that rapid prototyping takes enables teams to progress more quickly while focusing on the most important objectives of the project at the beginning.
---
Download Justinmind today and start rapid prototyping!
---
Myth #2 Rapid prototyping increases the risk of misunderstandings due to insufficient analysis
Quite the contrary. Rapid prototyping intends for you to avoid misunderstanding objectives by helping you to capture missed requirements and keep everyone informed.
Some people avoid rapid prototyping because it increases the risk of omitting "important developmental steps" from the web design process. Whilst this might be the case for larger organizations, the typical use of rapid prototyping involves product validation from the team, stakeholder and users alike, as to ensure that everyone is in the know and to leave less room for error.
In his article as quoted above, Alex Fedorov suggests that rapid prototyping helps to facilitate communication between teams, and helps "programmers to understand exactly what they're providing", in relation to the rapid prototype model.
Rapid prototyping is a good way of opening up discussion within and between teams. It generates feedback early on, with regards to the essential project requirements. Langdon Morris on "How to Master Rapid Prototyping" has it that "collaborative design occurs when people work together so that their different points of view, bases of experience, and knowledge of the problem and its context can be blended together to yield actionable solutions."
In the web design process, collaboration occurs when the team understands all the requirements and can give feedback from everyone involves in the project. How? Easy. Choose a rapid prototyping tool that offers online requirements management and collaboration features. Favorite tools include Justinmind, iRise and Invision.
Myth #3 Rapid prototyping leaves no room for user testing
A Smashing Magazine article by Michelle Chu claims that "product teams in startups and mid-sized and large companies are all implementing usability testing and prototyping as a way to de-risk product development." And with prototyping taking over the design portion of the product development, it is vital to make sure that everyone understands what the prototype should and shouldn't be expected to do.
In some cases, high-fidelity, high-resolution prototypes that are true to the end product can be misleading. What we mean by this is that if you have a realistic prototype model of a web application, the user or the stakeholder reviewing it is likely expecting to visualize and interact with it in as they would with the real thing.
Now when a high-fidelity prototype can offer authenticity in terms of visual of interactive precision, it can be a great thing. Why wouldn't you want to be able to see and interact with a next-to-perfect simulation of your final piece? But, sometimes this is too much.
"Rapid Prototyping decreases development time by allowing corrections to a product to be made early in the process." Efunda blog
Sometimes all you really need is to be able to translate concepts and ideas into tangibles and get them validated. This is when rapid prototyping really comes into its element.
With a rapid prototype that is based on prototyping and iterative development with no specific planning involved, (more on this here), you can review and test your design to catch problems early on and fix them before you've invested copious amounts of time, energy and resources. Avoid the need for changes by avoiding introducing the non-essentials into the mix.
Of course when it comes to prototype fidelity, it's not always clear how far should you go and how much effort should you put into the prototype before you move on to the real thing. Striking the right balance can be tricky, and there is no fool-proof method. It really does depend on the size and scope of your project. Investigating design tools that facilitate different types of prototyping is the first step to take.

FOUND THIS USEFUL? SHARE WITH
Emily Grace Adiseshiah
Emily is Marketing Content Editor at Justinmind
Related Content
UX design books that cover everything from layout design to the theory of user testing. Want to expand your horizons? Check out this awesome list!

UX design portfolios are your chance to showcase your top skills and best work. Check out this post for awesome portfolio examples and websites!

UX design is booming, but where do UX designers find job opportunities? How can they spot a bad job listing? Discover the world of UX design jobs in this post!