Cloud prototyping: How Justinmind boosts design team collaboration

Discover the cloud powered prototyping features that allow you to collaborate and iterate throughout the design process, from wireframe to validated design.
Cloud computing has revolutionized the way we work and live. From the rise of software as service (Saas) in workplaces to storing personal photos and files on Google Drive, internet users now use cloud computing in every walk of life. If you use the Internet, you use The Cloud.
Justinmind is right in the thick of the cloud service revolution. We've been using the power of cloud computing since we launched our UI prototyping tool to offer users great sharing features, better account management, and greater collaboration. Let's take a look at what Justinmind can do to improve your wireframing and prototyping workflow.
---
Download Justinmind and collaborate better than ever
---
Justinmind Online features 
When you sign up to Justinmind we create an Online Account for you. Through this cloud supported platform you can manage, publish, share and review your prototypes online whenever and wherever you want. You can find a full run-down of the online account features here.
Improve design team collaboration 
Through Justinmind Online, you and your team can streamline collaboration and communication. Simply go to Justinmind Online and add authorized users. You can then create groups of users and invite them to access, test and collaborate on relevant wireframes and high-fidelity prototypes. Authorized users can also publish and delete prototypes, and invite new reviewers. Wherever your teammates are and whenever they start work, they'll always have access to the latest design iteration and all comments.
Present prototyped designs to clients
Once the team has completed a web or app prototype, Justinmind lets you publish it on the online platform, where it's stored in the Projects tab. Switch the project to public and simply share the public URL to anyone you want to see the prototype. Invite your clients and stakeholders to review your prototype: they will receive an email invitation and they'll be able to view the prototype on any web browser or device, and give feedback directly on it. You don't have to travel, you don't have to make space in your diary – you just have to be online.
While clients are checking out your work, you can also use Justinmind to integrate your prototypes with usability testing tools and get immediate user feedback.
Secure your work
In our pursue of giving you the most powerful prototyping platform ever made we have also enhanced the security and privacy of Justinmind Online Account. Our Online service uses secure socket layer technology (SSL) is used to encrypt access both to your published prototypes and to your account. You can protect the access to your prototypes with a password if you wish to provide that extra bit of security for your work.
Review & comment on prototypes
Reviewing a prototype is simple and secure in Justinmind. Reviewers can simulate gestures, test out interactions and make comments directly in the browser. And you can also simulate everything directly on device with our app. Justinmind has full comments tracking, so you'll always know who's up to date with the latest version of your work.
Manage users in Justinmind Online
We understand that controlling access to designs-in-progress is vital to many teams. That's why we're always working on Justinmind's user management features. All authorized users have publishing permissions, teamwork access and the permissions to activate and use Justinmind on two computers. Anytime you need to remove a user from a group, go to the actions drop-down menu and select "remove from group". Easy.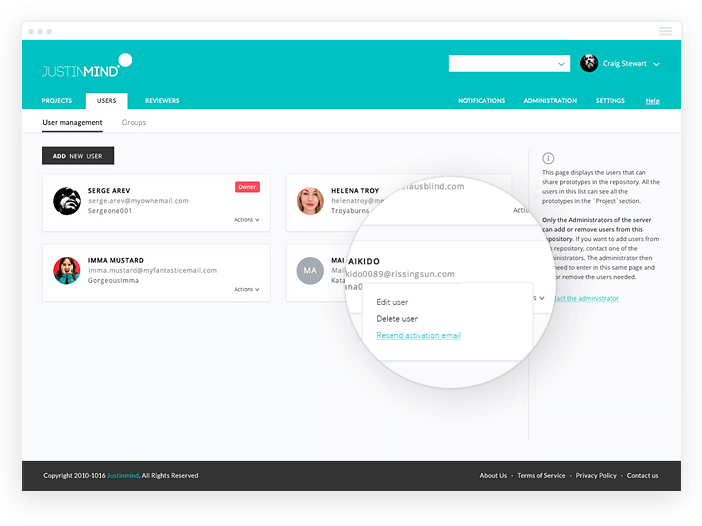 Using Justinmind on a private cloud
For businesses that want that extra security blanket, Justinmind Online can be deployed on your own servers and customized to business needs. Get in touch to find out more about Justinmind Enterprise.
FOUND THIS USEFUL? SHARE WITH
Victor Conesa
Victor is the Product Manager at Justinmind. His specialties include business analysis, usability, requirements management and prototyping. When not busy doing that he is known to eat or sleep.
Related Content
UI kits: sharing and synchronization

Need to create and share your own customized widget library remotely? Justinmind helps you and your team design a consistent product using shared assets for awesome UX. Learn how to design and regularly update a library in Justinmind with this post!

Design handoff for developers

Design-development handoff is a crucial stage - even more so when done remotely. Justinmind lets you collaborate online with developers in real time and makes sure they leave with everything they need to code your prototype into a breathing product. In this post, we explore how!