How Justinmind is revolutionizing collaborative prototyping

Organizational collaboration is set for a smart revolution this year. That's why Justinmind is building features that let you bring your whole team along for the ride, from wireframe to code
Large software companies are undergoing major developments to their collaboration efforts this year, according to ZD Net. Emerging technologies, including interactive prototyping tools like Justinmind, are helping redesign the idea of collaboration and are making teams perform smarter, faster and more productively.
Innovative web and mobile software is built when teams are connected. But getting all those designers, developers and product managers to see eye to eye isn't always easy. Having the right set of digital tools at hand can improve the way product teams work together by improving team synchronization, quality control and communication.
Embedding a collaborative prototyping process within the software development life cycle can make software teams more productive and improve an organization's bottom line. Justinmind, a prototyping tool with a range of collaborative prototyping features, makes it easy to set everyone up on the same platform at the same time. Explore the opportunities that Justinmind could off your teams as well as your business, such as:
Add as many developers as you want, free!
300Mb worth of storage space for every user
Unlike other prototyping tools, we don't charge for reviewers
Want to use Justinmind at work and home? No problem, you can install and use Justinmind on your desktop at work and laptop at home
Test your designs in real-time with real users!
What does collaboration have to do with building great products?
That's an easy one. Collaboration helps companies innovate.
Team collaboration helps close the communication gap between departments, shortens the cycle time between ideation and delivery and creates a more flexible and accessible environment for creative and product teams to thrive in.
What's more, successful collaboration techniques encourage stakeholder buy in and improve the user experience at the same time, according to this study by Oracle. Essentially, when teams have a streamlined workflow, managers can split their focus between team training and opportunities for innovation.
Oracle describes collaboration in the big companies as 'tapping the power of grassroots participation to drive acceptance, adoption, and expansion of ideas.'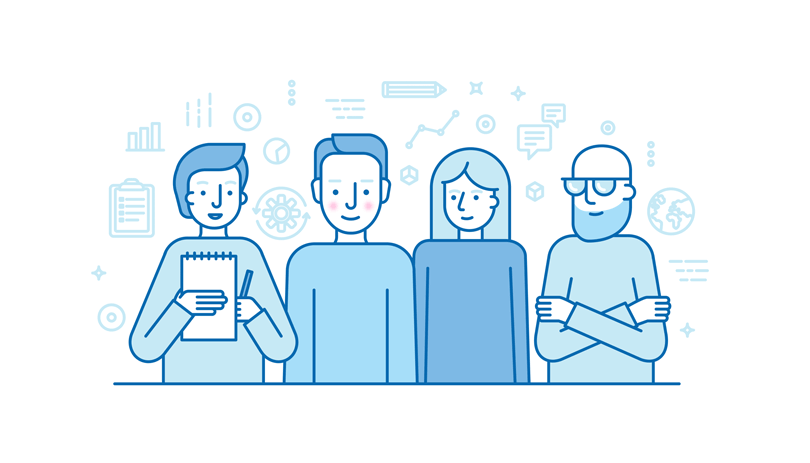 Why have your product teams collaborate using prototypes?
Successful collaboration among product teams requires the right set of resources. New emerging technologies are making collaboration and productivity in software development even more powerful. And one of the technologies leading the pack is the prototyping tool.
Following a collaborative prototyping process will reduce misunderstandings in design hand-off to developers and rework for product teams, and improve product delivery time and cost-benefit. Being able to visualize your designs in real-time ensures that requirements are respected and user needs are captured.
"The way that digital tools enable collaboration in the workforce is set for one of the largest shifts in years as new technologies and techniques provide several paths forward towards effective new methods." Dion Hinchcliffe
Justinmind for team prototyping
Justinmind is a web and mobile prototyping tool with a complete set of collaboration enabling technologies for agile team participation. Our prototyping and design features and user testing capabilities are paired with smart business functionalities.
It's easy to get everyone in your team set up with Justinmind, regardless of your payment plan.
---
Download Justinmind now to improve collaboration in your software development life cycle
---
Serving the business-side
Justinmind lets you work on your prototypes as a team. Mismatched design tools with complicated user configuration settings are now a thing of the past.
Account owners can add as many users as they like to view, simulate and test prototypes as well as share and collect feedback. All of your users will have 300Mb worth of storage space to create their own designs or work on a shared team prototype. Each new user added can be paid for with a monthly or yearly subscription. You can even create user groups to align your users with your internal workflow. Team engagement just got so much easier.
On top of that, you can invite an unlimited number of reviewers to view your work – and we won't charge you a cent. Validate and refine your prototypes in no time.
Sync and share tools to keep teams focused on the important tasks
Justinmind is integrated with a number of leading design and project manager tools to make your teams' workflows smoother.
Our Sketch plugin allows designers to export their Sketch artboards and continue working on them in Justinmind. They can edit their designs directly in the prototyping canvas or jump ahead to making their prototype interactive and simulating their designs in real-time. Assets are centralized so designers don't waste any time searching for UI elements or reworking styles unnecessarily.
The Jira add-on for Justinmind means Jira items can be imported directly in Justinmind. Items can be associated to elements in the user interface so that everyone can visualize project requirements in real-time.
Revolutionizing the designer-developer set up
Until recently, Justinmind users were able to share wireframes and prototypes with the rest of the product team so everyone could edit and make changes to designs simultaneously. Users could also invite reviewers into the mix to have their say.
But this year we unveiled our developer-friendly user interface. Developers now have exactly what they need from creatives to write code – no misunderstandings, more productivity. They can see the exact measurements and spacing between UI elements in pixels on the canvas itself. Developers can even copy and paste CSS styles from Justinmind to other programs, clone colors, typography, element height, width, opacity, size, alignment, and letter spacing of each prototype.
Want to add your development team to the prototyping process? Find out how here.
UI library synchronization
Prototyping helps teams to maintain consistency with design guidelines and enhance their brand's image at the same time as cutting down on extra work. As our Oracle study has it, a signification amount of time (20 h/ team member is the weekly average) is spent on unnecessary re-creation of documents and format manipulation amounts to millions of dollars in wasted productivity in large organizations. Collaboration cuts roughly 10% of re-work, worth millions of dollars in cost savings for the average medium-large company.
Justinmind Enterprise users can keep on top of digital assets by centralizing and synchronizing UI libraries and sharing them with the rest of team. This will help avoid wasted time and rework through each iteration.
Automation and integrated processes
Keep teams focused on what's important with automatized quality control and secure prototyping. A version history is available at any time for every prototype design, and includes all modifications so that you can jump to and from any change made. All project details, and changes are registered for each version – that way your teams are focusing on their prototype and not worrying about their lost assets.
With Justinmind Enterprise, teams can integrate the collaboration platform with their LDAP to streamline the user login and keep work server-side, and 100% secure. And don't worry about lost internet connections. Justinmind also works offline.
The takeaway
Product teams need to translate concepts to deliverables efficiently and within a collaborative environment.
Prototyping is an effective way to get teams working together and adopting an experimental mindset in order to innovate. With Justinmind, team productivity leads to enterprise gain. Just ask our customers, all 600,000+ of them!

FOUND THIS USEFUL? SHARE WITH
Emily Grace Adiseshiah
Emily is Marketing Content Editor at Justinmind
Related Content
Why you should be doing design challenges

Design challenges help sharpen your UX skills, offer a chance to network with other designers and create unique solutions. Here's why you should do them

How DePalma build collaboration in their design culture

Design culture promotes innovation, cross-collaboration and problem-solving. This is how DePalma baked it right into their culture