How do you solve a UX problem like NASA?

How NASA is solving problems and making the lives of its astronauts easier through user experience design
If you've ever wondered how NASA takes UX design into orbit, you're about to find out. Justinmind recently held a UX design prototyping Meetup with one of NASA's interaction designers, Ron Kim.
Ron is part of a human computer interaction group consultancy (the NASA HCI Group) within NASA, which comprises 30 people, including designers, researchers, developers and QA engineers.
The small UX team works in conjunction with other departments, namely the Johnson Space Center, to create products that will be sent to space. This isn't without its difficulties, as you'd expect in any company.
In the illuminating talk, Ron gave us insight into what role UX design plays at NASA and how the NASA HCI Group is involved in creating human-centered tools that help astronauts go about their day.
In this post, we'll share how the NASA HCI Group tackles a UX problem, what's the process behind creating solutions and just how important a simple scheduling app is. You can also watch a recording of the Meetup below:
---
Take your prototyping out of this world. Download Justinmind.
---
What role UX design plays at NASA
The NASA HCI Group mainly supports two groups at NASA: the international space station (yep, that one) and exploration systems development (which deals with deep space rockets).
Their work supports mission assurance, which involves:
Safety checklists

Documenting hazards and mitigation

Documentation of system controls
Aside from mission assurance, the group also plays a role in mission planning:
Organizing daily activities on the vehicles in space

Maintenance

Running science experiments

Repairs on space walks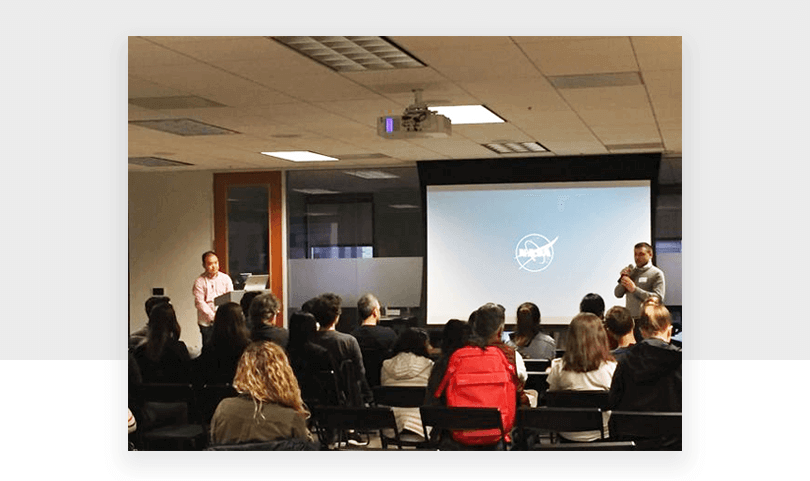 How UX design changed astronauts in outer space
Out of all that organizing and planning, The NASA HCI Group developed a web app called Playbook. Playbook allows astronauts to schedule their day.
This might not sound like a great feat of UX design but this humble web app means allows astronauts a sense of independence and freedom, something they didn't have previously.
"It's a relatively new concept for astronauts to schedule their day. Historically at NASA, this was done by mission control on the ground and the reason for that was because of safety. NASA likes to anticipate anything and everything, even down to a 5 minute increment"
Playbook is important for a variety of reasons but strikingly, as astronauts venture further into deep space, they are no longer able to enjoy instant communication.
"The problem is sending astronauts deeper into space. We have to anticipate the problem of time delays, communication between astronauts and the ground. This problem was solved by astronaut autonomy and the app helps them to make independent decisions"
This creates the need for astronauts to autonomously plan and schedule their lives whilst in space because ground control can no longer talk with them.
Showing the value of UX design
The NASA HCI Group is designing for highly skilled engineers and scientists. This doesn't come without its difficulties.
"NASA is a scientifically and technically minded organization and is full of logical thinkers. Showing them the value of UX design was hard. Software isn't just about meeting requirements"
By embedding themselves as a brand within NASA, they were able to encourage legitimacy and trust for the work that they were doing. This meant other groups in the agency knew the people who are building the tools they use.
"I was surprised NASA was involved in UX but there is now more of a demand of design thinking. Especially for apps that engineers and scientists use. It's hard to convince people of the value of UX but we've been working over the years to change this perception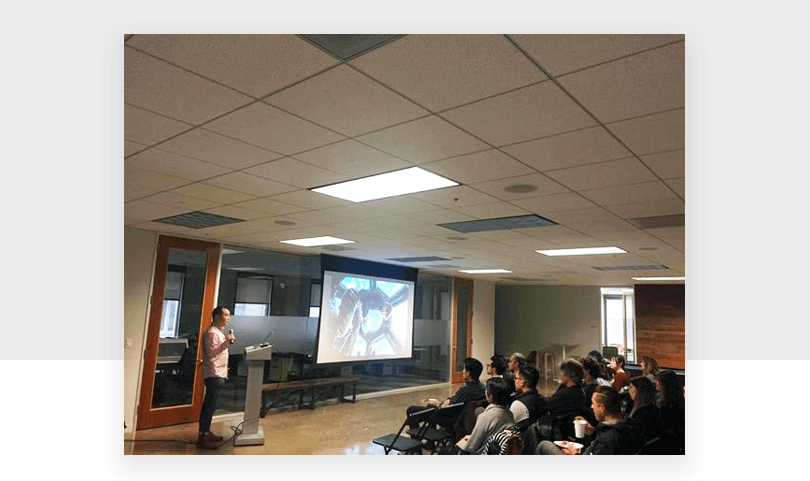 UX design process at NASA
The HCI Group is essentially a UX consultancy for NASA that takes a traditional design thinking approach to their work. It's broken down into 5 steps, which are:
Empathy / Discovery

Observe

Ideate

Build and Deploy

Test
The NASA HCI Group is creating solutions for a very specific set of people and so it's critical that they understand these users because their work domain is so far removed from what the group is used to doing, meaning more time is spent on user research.
The user research involves:
Observation

Contextual inquiry

Expert/Novice relationship through observation

Interviews

Flow diagrams
"We have to balance usability and power features because we work with many highly skilled experts in their field. When we design software for astronauts, we have to assume the tool that we build will be one of many used in a given day. Our approach then has to be very walk up and use. Finish and move on."
"This is one of the most difficult challenges for us. Designing something that is simple and usable."
Observation involves post-it notes, interpreting findings and extracting meaning from learnings. This is when they'll start to formulate software requirements. This stage is important, Ron says, because it can be easy to forget the user. To solve this problem, they rely on user stories.
"User stories keep the human in the picture"
To synthesize ideas, the team will sketch. No worrying about quality necessary because they need to stay open-minded and creative.
Once sketches are refined and ideas have been turned into requirements, the next stage is building.
That means prototype development using a mixture of low-fi and hi-fi wireframes, paper prototypes and interactive prototypes.
"Prototyping is quick, useful and done early. Great for feedback."
The hi-def prototypes get shown to users either in person or remotely for user testing.
"It's important for us to test our products in a close to real environment as possible. We've had astronauts use our tools underwater as this closely resembles micro gravity."
Conclusion
Who knew that marrying UX design and space exploration would change the way astronauts live in outer space? With a robust design thinking process in place and a team ready to tackle challenges, we're excited to see what the team at NASA has in store for us next.
FOUND THIS USEFUL? SHARE WITH
Steven Douglas
Steven is the web editor at Justinmind
Related Content
UX research can be a driving force in design. But what methods are there? How do we approach it? Find out in this post!

Prototyping is a door to validating requirements, but how can we test requirements? How does Justinmind help us validate my requirements?

What is responsive design and why is it so important? What does it look like? Get close and personal with a UX star in this introduction to responsive!