Why did you remove thumbnails of target element from events panel?
It was useful in v5 to see little thumbnails and names of elements related to tha action. Now I even don't see what the action points to. It's less productive.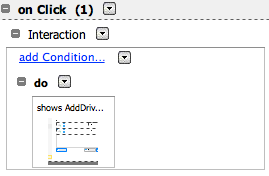 After playing around I found a way to change layout to horizontal, and I can see the target in tooltip, but still it's less productive in comparison to simple list of all actions with target elements and with thumbnails.
It would be better if you change this panel to be vertical, with indentions for conditions, a little bit like a code.
The target elements of action should be shown on this list, not only with little picture but also with name.
On click
If [condition]
Resize Panel_1
Show Button_1
Else if [condition]
Hide Button_1
Else
Show Button_2