When two or more components with different dimensions are selected, Properties panel shows "1"
Dave
shared this problem
4 years

ago
1) Create several components with the same width, but different heights (for example)
2) Select the components.
3) See the following in the Properties panel: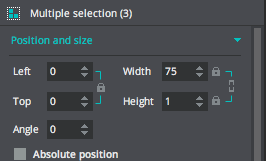 None of the components has a height of 1, but if the matching dimension (in this case, width) is edited, all of the components will have their height set to 1.
Instead, why not do something like this:
Leave the non-matching dimension out of it.
I have noticed that if you select to components where neither dimension matches, both show "1."