Using Logins to Show Different Screens
Hi There.
So I've read and watched everything I can find on using 'logins' in prototyper.
Simply put, when user is not logged in, I want to show a login box when they click specific menu items/buttons, which I've managed to get started on.
Now, once user is logged in, I don't want a login box to pop up, which is what I can't seem to get right. Is there any way to keep the information used to log in and get the website to refer to that every time a user clicks a button which has a different response based on logged in being true or false?
I have a data master set up with usernames and passwords to play around with. When I use one of the usernames and passwords, it goes to the page I intend, which is great. It's just that when I click the same menu button again it shows the login box again, but I'm already 'logged in'. I hope this is making sense, it's hard to explain.
This is how I show the hidden login box to an un-signed in user: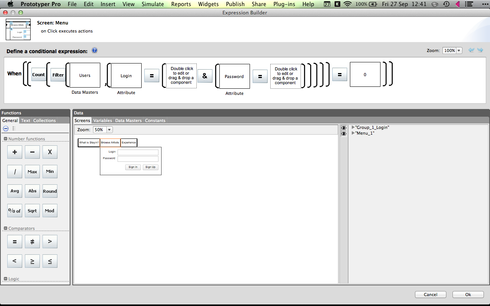 This is how I tried to make sure that box wouldn't appear once the user was signed in, using an 'else' command, using variables to record entries into the 'login' and 'password' text boxes:
My goal is to be able to realistically simulate the different experiences logged in and logged out visitors would experience.
Your assistance would be much appreciated.
Thank you in advance
Nathan