Unexpected Error when creating an on Key Press Interaction (PC verison 5.5)
I am trying to add a new interaction to an existing page in my prototype. Four times in a row, I have gotten kicked out of the app with an "unexpected error" message.
Steps to the error:
Open .vp file
Go to screen
Go to input field
Go to existing "on Key Down" interaction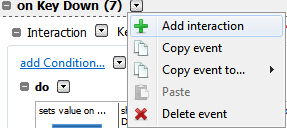 Click to add interaction
From Interactions window, I click Show / Hide
Select the needed label
Click OK to close interaction window.
Error appears