Prototype is not displayed on html page
I have Justinmind Prototyper Pro Edition v.5.0.0. I created a prototype and then tried to export it to HTML, but web page, that was created, doesn't display anything!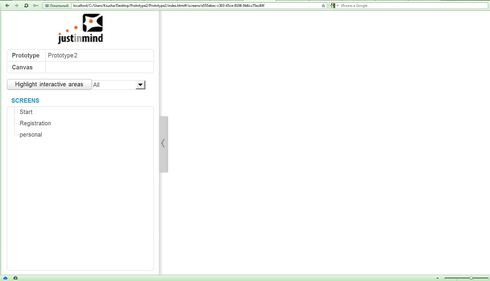 Also I found out that I haven't some folders, that should be (as it was said at help).
"The HTML prototype file structure is as follows:
[PrototypeName]/CSS – This folder contains the cascade style sheets (CSS) files which contain information about the style and look and feel of HTML elements.
[PrototypeName]/images – This folder contains the images of your prototype.
[PrototypeName]/javascript – This folder contains the javascript script files which provide active behaviours such as most event actions to prototypes.
[PrototypeName]/pages – This folder contains the actual screens sorted by name. Use this folder to look and browse screens without the navigation tree on the left that's common to all HTML prototypes.
[PrototypeName]/index.html – Use this file as an entry point to any HTML prototype. It opens the prototype's home page and adds a useful screen tree on the left to ease navigation. Html files can be opened with any web browser such as Internet Explorer, Mozilla Firefox, Apple Safari or Google Chrome."
What I did wrong?