Often it is necessary to create the same functionality at different places. For example the actions to calculate the different sums in the following table have to be created at each input field in the "on Change" event.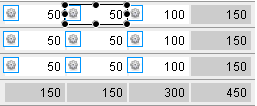 This would be much easier with a new "on Trigger" event. With this new event you only have to fire the right trigger in the "on Change" event of the input fields and this will trigger the "on trigger" event at the sum fields. So the calculation formula has to be implemented only once for each sum field. This can be maintained much easier than to maintain the calculation at every input field.
It should be possible to create different triggers (for example one trigger for the calculation of one table and an other for an other table). For that the "on Trigger" event should have a parameter to identify on which trigger the interactions should be processed (a kind of condition at event level or a name of the trigger event).
This idea also will cover my other topic: New event on Status Change