Justinmind becomes unusable, then crashes after installing (numerous) Google Fonts
Dave
shared this problem
4 years

ago
I used the "Download Google Fonts" feature (or whatever it's called) and selected a dozen or so fonts. After a lengthy download, I attempted to select one of the newly installed fonts.
The font menu (both in the Properties inspector and the top toolbar) became unusable: I could type the 1st letter of a font name, and the textbox for the selected font would change and the selected component would appear in the selected font (of course, because you can only type one letter, I only had 26 choices), but the scrolling list would not move at all.
Also, regardless of changes made in the properties field, the top bar kept reverting to "", which is the first font listed.
I decided to quit and restart Justinmind, and received this popup error, which hung Justinmind for many minutes, necessitating a force-quit: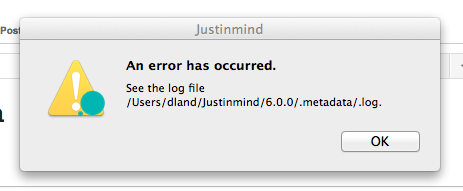 I will send the requested file to you, referencing this bug report.