Extremely Unhelpful Error(?) Dialog
Dave
shared this problem
4 years

ago
This evening, while attempting to change the font size of six selected labels using the font-size selector at the top of the Justinmind window, I pressed the ↑ and ↓ keys, but it appeared only to toggle between "6" and a blank field.
Subsequently, an empty rectangle with a drop shadow — apparently, a dialog box — popped up: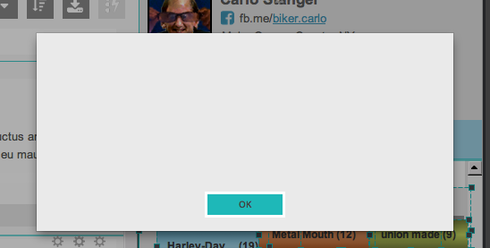 After a considerable wait, the "OK" button appeared. After an even longer wait, nothing further appeared. I eventually clicked "OK", but Justinmind was very unstable (clicking in property fields did not highlight them, but their contents could be edited, although there was no text cursor, so it was a bit of a guessing-game as to where the change would take place).
I quit and restarted Justinmind, which I'm discovering is a good thing to do every hour or two, as the program gets "confused" and strange behaviors like those described above take place.