Create a new component with dependencies between elements
I have to create new UIs for some web applications. This application have a read and an edit mode. So for an attribute with a select list I need a normal input field for the read mode an a field with a select list for the edit mode. The followind screen shows this component: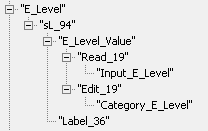 When using this component it is easy to change the width of the label. But when I want to change the width of the input field I have to change of "E_Level_Value", "Read_19", "Input_E_Level", "Edit_19" and "Category_E_Level". Is it possible to connect the size parameters of these elements so that the change of one element changes all other elements too? If yes, what have I to do? If no, is ist possible to program own widgets? If yes, how can I do this? If no, I suggest to add this functionality to JIM.