The collaborative prototyping process with Justinmind

With the Justinmind prototyping tool, you can supercharge your prototyping process thanks to strong sharing and collaboration features
In all big enterprises collaboration tools help to boost productivity. Especially when there are designers involved – who often work in distributed groups – and when clients are based all over the world, collaboration management is key.
---
Collaborate, innovate, prototype. Download Justinmind now.
---
This is where a collaborative prototyping tool like Justinmind comes in, to make it easier and faster for designers to create together as a team, to get meaningful feedback about their creation, and to share their app or web prototypes with the developers.
Justinmind has always made sharing and collaboration features one of its strong points, thus enabling an efficient collaborative prototyping process. This post explains how to take full advantage of these features – constantly updated and improved – at each step of the web or app prototyping process.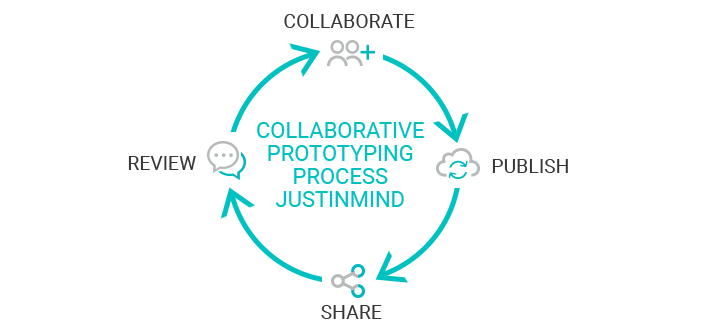 Real-time collaboration
We all agree that a team works better when it communicates better. Justinmind helps you in this, optimizing communication and collaboration, and ensuring that everything runs smoothly and within deadline.
Our teamwork features allow the creation of shared prototypes thanks to Justinmind's online service: you and your team will be able to edit and make changes simultaneously on the same web or app prototype. All this can happen in the cloud, or on-premise with Justinmind.
You'll just need to create a shared prototype at the beginning of the design process, or share an existing one with other users using the Teamwork drop-down menu. At this point, the project owner will be able to invite (and dis-invite) users to edit it. In turn, they can be changed by the owner of the Justinmind account where the project has been uploaded.
All users have the possibility to lock elements (screens, templates, masters, etc) of the app or web prototype and to be the only person with the permission to edit them, so as to avoid conflicts in modifications. Once the work is done, users can unlock the elements so that others can make all further editing.
When modifying elements of a shared prototype, all the changes are stored locally, until you press 'Commit' and all the changes are uploaded to the server. An update is necessary in order to refresh all the changes made by other users and be sure that you have the latest version everyone is working on.
And these are only some of the many operations you can perform in a shared prototype environment!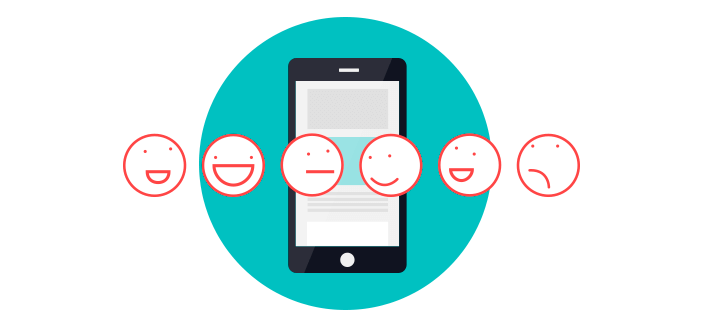 ---
Download Justinmind today to supercharge your prototyping process!
---
Online and offline teamwork
With Justinmind you can also open shared projects to work offline: a copy stored locally can be opened at any time to work on it. When a connection is available you will then be able to upload all your local-made changes ("commit") and sync your project for available updates.
Version control
With big teams working on the same project, it can be difficult to keep track of everything. With Justinmind you can see who made each modification or revision, and create new web or app prototypes from them. All project details and changes are registered for each version.
Share assets with your team
Designers can create the widget libraries following the brand guidelines, and with Justinmind they can share them with the team and manage them centrally, so that the entire team is automatically synchronized with the latest version.
Users will only have to drop the objects created by the designer onto their canvas, without the confusion of mistaken sizes, colors or deprecated styles. Widgets and templates can be used to maintain the styles, colors, events and structures that are repeated throughout several pages of a single project, or in many different projects, thus enhancing brand consistency. This also contribute to improve productivity, since things don't need to be redrawn.
Widgets can be treated as independent objects and are easily shareable by mail, network or even personal messaging systems. Most common media types, such as .jpg and .gif, are accepted.
Documentation
Justinmind generates documentation in several formats: docs for registry and control, HTML for sharing among interested parties and for testing/presentation, CSV for data, etc. This way, your information can always be editable and shareable.
Publish and Share Online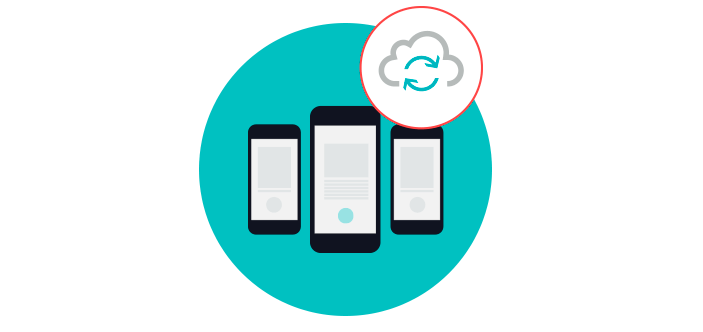 Once you and your team will have the web or app prototype ready, Justinmind lets you publish it on the online platform, where all your projects will be listed, and from there you will be able to share them. As a project owner, you will have complete control over the people who can access and review it.
From your account, you can switch the project to public and allow access to it by sending the URL to anyone you want to see it. If you need extra security, or have confidential projects, you can make them password protected. Review invites are sent via email to selected users or group of users, and it's possible to revoke a reviewer's permission as easily as it is to grant it.
You can make your app or web prototypes available to view in any web browser or device, or publish them on remote user testing tools. Thus, your web or app prototype simulation will always be available for your reviewers to give you feedback. Being able to see the simulation on the actual device will leave small space to mistake when the developing phase will come.
Manage Reviews and Comments
Colleagues and clients can access published prototypes anywhere to test and comment, and they will be able to link their comments to any specific feature or requirement. The comments can then be seen in the specific part of the design that is being reviewed so you'll never lose track of anything. At each new comment, all the users will be notified with an email.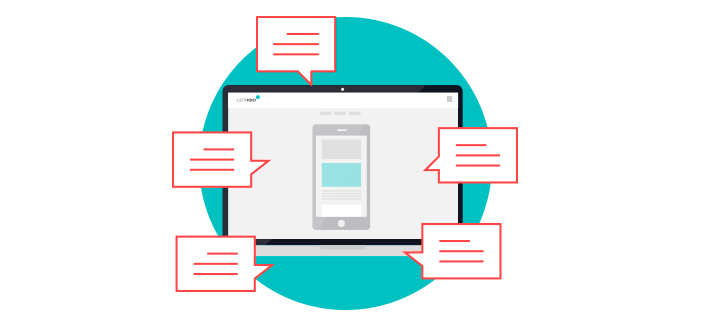 The comments can be related to any version of the prototype, and they can then be exported and organized in personalized .doc templates, for reports, summaries and analysis.
Furthermore, all feedback can be easily organized in customized categories with labels and colors for solid management, so no details will get lost.
Like with changes, comments and reviews can be made online but also offline. When a connection is available, you will be able to sync your feedback.
When the reviewing phase comes to an end, the web or app prototyping building cycle can re-start, enriched with feedback and comments from all the interested parties. Published projects can be easily replaced with updated versions, and the reviewing part can take place again, as easy as that!
But remember that re-works and changes are not as easy at the development stage as they are at the prototyping stage using Justinmind, so better make the most of it. Try our sharing and collaboration features in your organization and give us your feedback. We listen carefully to our community to learn more about how we can make the product better for you and your team!
Developer friendly user interface
Not only is it easy as pie to whip up a fully interactive prototype with our drag and drop widgets, we've covered all bases with our developer friendly user interface. Justinmind's user interface is perfect for the developers in your life. Why? It makes team collaboration much easier among different teams – perfect when you're working with agile methodologies. There's nothing worse than designer developer breakdowns so with the user interface, we've streamlined hand off.
The new work space contains all the necessary info a developer needs to get started on your projects – such as copying CSS styles, exporting assets and specification documentation.
---
Check out our new section of Teamwork tutorials:
Shared prototypes: the environment
FOUND THIS USEFUL? SHARE WITH
Daniela Castrataro
Daniela is Content Editor at Justinmind
Related Content
Your search for the best agile tool ends here. We've broken down what makes 20 of the best tools on the market unique to help you choose.

Need to create and share your own customized widget library remotely? Justinmind helps you and your team design a consistent product using shared assets for awesome UX. Learn how to design and regularly update a library in Justinmind with this post!

Design-development handoff is a crucial stage - even more so when done remotely. Justinmind lets you collaborate online with developers in real time and makes sure they leave with everything they need to code your prototype into a breathing product. In this post, we explore how!