4 ways prototyping can help you take risks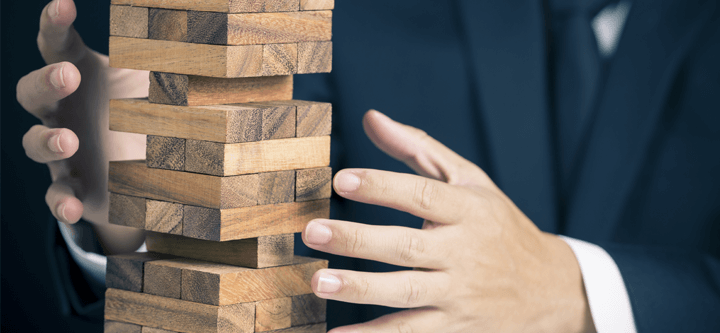 Innovative software definition, multi-platform design, user testing early on and finding the right fidelity. 4 ways prototyping can help you take risks.
Here at Justinmind, we recently wrote about how prototyping minimizes risks in software definition by helping teams avoid rework and misunderstandings leading up to and during the software development process. But sometimes risks are a necessary evil, for example, when building to innovate or establishing a new feature. Here, we discuss why you should be taking risks in software definition and how prototyping helps to makes it a good experience?
Prototyping to innovate, really innovate
Let your prototyping tool do the boring stuff so that you can focus on the next big thing.
When was the last time you had a truly great idea and tossed it aside because you were too busy with 'real work' and/or ongoing work for large-scale software and IT projects? But what if that one great idea was the idea and you completely missed your opportunity? On ne sait jamais, (you never know, as the French say).
This is where prototyping really comes into its element. Software prototyping helps you to bring your ideas to life and visualize them with your team and clients, whilst allowing you to avoid wasting precious time or money. How's this? The workflow that you follow with prototyping in the software definition process gives you time to focus on the architecture of the software and leave the finer details to your prototyping tool.
Once you've got your initial ideas down in your prototyping tool, sit back and let the tool do the rest. Use templates to reuse content, such as styles that you've defined for UI elements that you'd like to implement elsewhere. Masters, in turn, allow you to spread global changes across the different screens of your prototype quickly and easily – no tedious rework or repetition, which means that you can concentrate on your great idea.
---
Define software, manage requirements. Download Justinmind.
---
Design without limits and with visualization
Create authentic designs in your prototype that represent your software's features without even a lick of code.
OK so there are going to be times when you can't simply leave design decisions to a wireframing or prototyping tool. There are some things that just need the human touch. *Enter the UX Designer and their arsenal of design tools*. Challenge accepted!
Designers can integrate their designs from tools such as Sketch, Photoshop, InDesign and Illustrator with your prototypes in a flash. Prototyping tools like Justinmind come with pre-built industry-standard UI libraries for both web and mobile frameworks that you can easily import and export to and from design platforms. In fact, most of Justinmind's UI elements are SVG vector files which means that you can easily edit their style, such as color and size, without jeopardizing the quality of the icon.
There are plenty of prototyping tools that allow you to transfer features, screens, and UI elements to and from design tools so that you can work on them on various platforms. And to make sure that nothing is lost in translation, the elements that you embed in your prototype from design tools will be automatically updated whenever remote files are modified.
User testing and breaking the rules without suffering the consequences
Prototyping bridges the gap between the 'already possible' and the 'to be created' and helps you find the missing pieces along the way.
When you innovate, you open yourself up to uncertainty, which can lead to mistakes. The last thing you want to do is to get deep into a project, only then to realize that you've been doing it all wrong. We firmly believe that the sooner you find the bugs in a project, the sooner you can exterminate them. But how do you do this? Document requirements and test, test test.
First off, documenting your project's requirements is a must. But we're not talking about slaving over a lengthy specification document whilst prototyping. No. We're talking about gathering and cataloging your requirements and project specifications within your prototyping tool. By integrating your requirements documentation process within the prototyping phase, you can make your project's requirements easy to understand and communicate and manage all from within your prototyping tool, as well as generate documentation for all project participants.
Building prototypes gives you a chance to get your ideas out of your head and into the hands of the people you're designing for. Acumen
Secondly, let's talk user testing. With a shift from usability to experience in recent years, it's vital that we know which experiences our users need and want. We're big fans of user testing early on in any software project. By including user testing in the prototyping phase of the software definition process, you can afford to take risks. By having your Information Architecture and main flows evaluated by real user groups, you will get to grips with user reactions and expectations. But how do we know that users want? Simple: ask them. Tools like Justinmind actually enable you to perform user testing within the prototyping framework, with testing tools such as UserTesting, UserZoom and Loop11. See more on user testing in the prototyping process here and the best tools to use here.
Prototyping fidelity: when all else fails, try, try again
Prototyping keeps things simple: if it doesn't work, delete it and start again. No code, no cry.
The beauty of the prototyping phase of software definition is that you haven't actually started to build anything 'real'. You're simply visualizing your ideas. For this reason, choose the right fidelity.
Choosing the right fidelity for your software prototype can save you time and rework in the long run. Your prototype should show the minimum that you can afford to visualize before getting down to coding. Don't waste time pixel-punching when these details may very well change further down the line. You'll know that you're on the right step of the fidelity ladder if when it comes to iterating your designs, you're not spending heaps of time reworking things.
Choosing the right tool for the job.
There are loads of great tools out there. Justinmind is a low to high-fidelity wireframing and prototyping tool that can be used without any technical expertise or programming knowledge. It allows you to visualize your designs before moving on to coding – it's all risk, all gain. Check out all of the tool's features here and see for yourself!

FOUND THIS USEFUL? SHARE WITH
Emily Grace Adiseshiah
Emily is Marketing Content Editor at Justinmind
Related Content
Mobile usability testing: what you need to know

A mobile usability test may be similar to testing a website - but mobile devices have an impact on how you go about testing an app. Discover the best practices in this practical guide!

Low fidelity vs high fidelity wireframes: what's the difference?

What's the difference between low fidelity and high fidelity wireframes? Exploring the prototyping fidelity spectrum in the web and mobile design process