Apple Watch UI Kit: prototype smarter apps with Justinmind

In our latest release we launched the Apple Watch UI Kit, with over 100 widgets carefully designed in-house here at Justinmind, to let you build unique app prototypes for the Apple Watch.
Last week, in announcing the WatchOS2 release (then delayed), Apple revealed the new WatchKit, opening up a wide range of APIs to developers. They will gain programmatic access to the Apple Watch's sensors, like the accelerometer and the heart rate sensor; the Taptic Engine, to add haptic notifications into third-party apps; and the Digital Crown, to go far beyond the standard scroll interaction currently available. They will also be able to access the microphone and speaker and explore new ways to play audio and video, and record audio directly from the Watch.
Third-party apps can integrate more closely with the Watch and a world of new possibilities is opening up to Apple Watch app developers.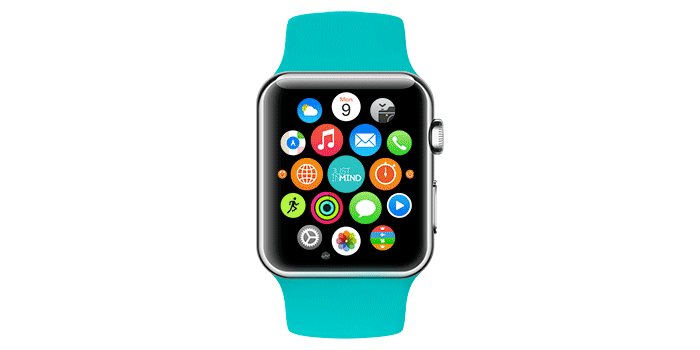 Justinmind Apple Watch UI KIT
If you're considering getting in the game and designing great apps for the Apple Watch, then you'll find our brand new Apple Watch UI Kit very useful. You can upload the library in Justinmind and create beautiful app prototypes for the Watch. The kit is also compatible with Sketch, Illustrator and Photoshop.
---
Get the Apple watch UI kit now!
---
The UI Kit includes a great variety of pre-built elements, from the most basic to the more advanced, thus letting you implement atomic design principles and improve UX from the fundamental components of an app. The elements can in fact be combined and edited to represent content, functions and themes that are specific to your app and to best support your UI and UX. They are available in webfont format, therefore you can edit their color, size and shadow to fit your design guidelines and brand image.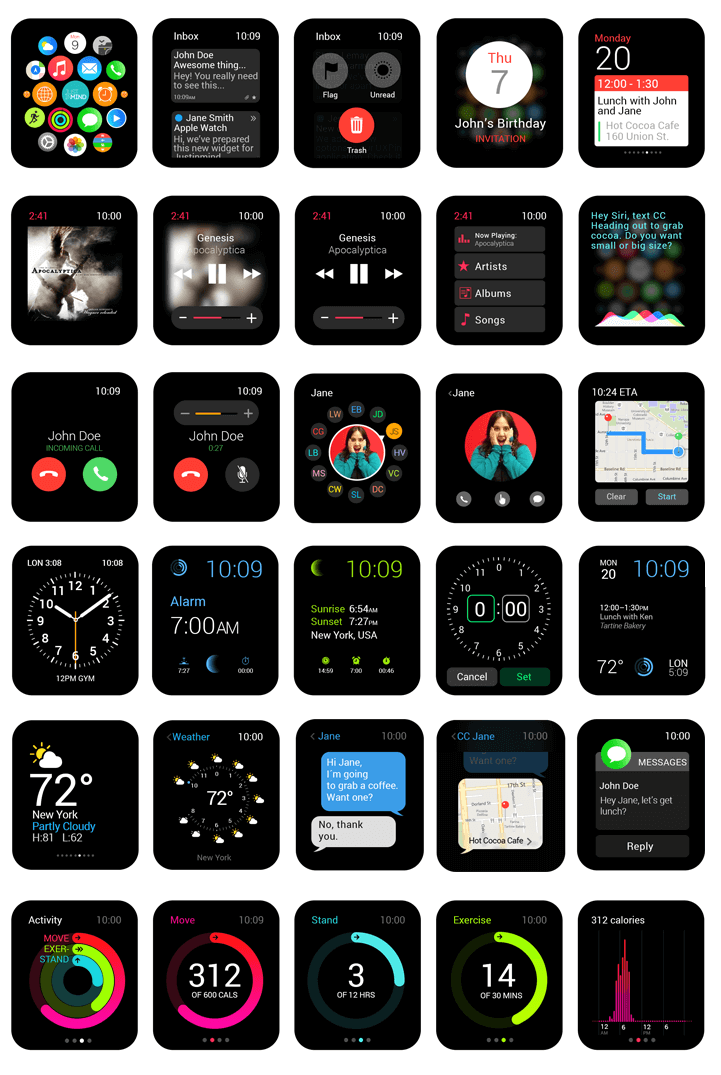 Prototyping apps for the Apple Watch
Although wearable technology has been around for a while already, the Apple Watch is by far the most ambitious smartwatch we've seen, and the announced software update will take it to the next level. At the moment, thousands of apps are already available to Apple Watch users, despite the limitations imposed by Apple.
It looks like Apple is now giving developers space to make the Watch an all-round more useful and wearable device. However, responsive is not the key here. Building for the Apple Watch doesn't mean replicating an existing mobile experience on a smaller screen. Rather, it's finding innovative ways to extend the functionality of an app, or to find the best ways to make it work. It's a different tool and as such will be particularly convenient for specific actions. For instance, regulating and tracking the environment around us, and having our notifications "handier".
On the other hand, there are a few things to take into account when creating apps for the Apple Watch. From a design point of view, the scaled-down screen won't let designers fit much text onto it. Similarly, animations will have to be used in a smarter way, with more specific purposes. As for navigation, anything that implies too much scrolling or tapping will likely result in a bad experience for Watch users. Verbal input is likely to play a big role, and Siri is indeed expected to be more powerful or 'versatile' in Watch OS2.
These are only some basic considerations, however a great way to really understand the potential of the Apple Watch is to start building app prototypes, which will in turn can be extremely useful in understanding the end user experience of such a brand new device. That's why we're inviting you to download Justinmind Apple Watch Widget Library here.
In Justinmind, you can create a custom canvas to design a fully interactive and high fidelity Apple Watch app prototype. And soon you'll be able to view the apps directly in the Apple Watch simulator.
So, what are you waiting for? Download the Apple watch kit and get down to prototyping beautiful and unique Apple Watch apps. Go forth and create!

FOUND THIS USEFUL? SHARE WITH
Daniela Castrataro
Daniela is Content Editor at Justinmind
Related Content
US Web Design Standards UI kit: for accessible government websites

Designing a US government agency website calls for a high degree of accessibility and public impact. Justinmind's US Web Design Standards UI kit lets you can design a website that echoes the US federal brand, while maintaining your agency's style. Read on to find out how.

Where to get free app icons: top 24 sites

Finding the right icons to use in your app prototypes can be difficult given the vast array of choices out there. That's why we've narrowed down 24 of the best places to find free app icons - to make your life that bit easier.